Freight strategy for region launched
A vision for how freight transport across the Shropshire and Mid Wales area could be improved to support economic development and operational efficiency, as well as realise financial benefits worth £149 million, has been launched at an event in Welshpool.
The Marches Local Enterprise Partnership and The Growing Mid Wales Partnership, together with the Welsh Government, Midlands Connect and councils on both sides of the border, jointly commissioned the new strategy.
It includes recommendations on how to improve the experience of businesses moving freight within and through the region, whilst enhancing the quality of life for residents near to key freight corridors and reducing environmental impacts. Both rail and road options are included.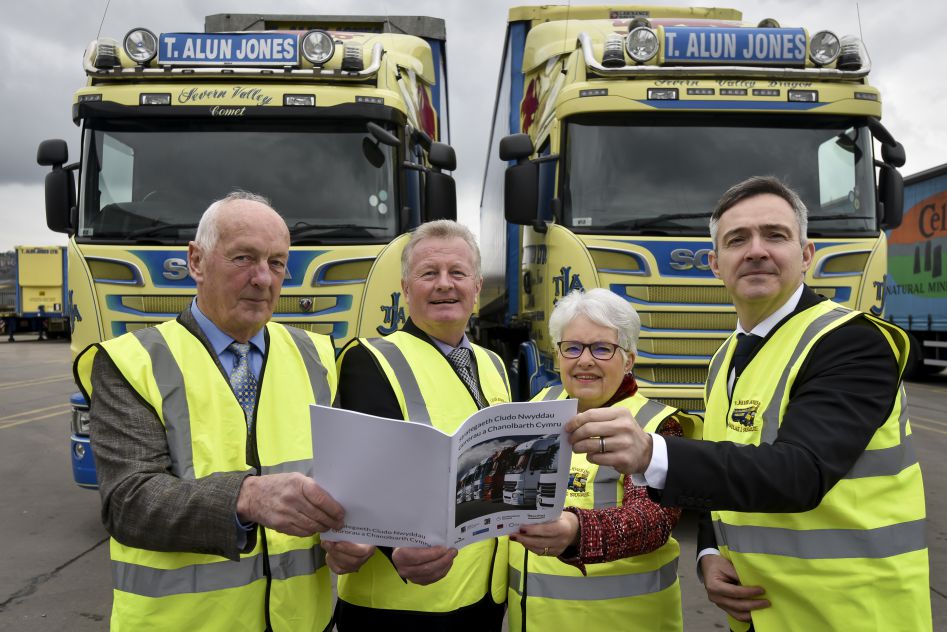 If fully implemented, it is anticipated the strategy could provide benefits to operators of heavy goods vehicles (HGV) worth at least £149m.
This would be achieved through a series of highway enhancements focused on increased opportunities for safe overtaking; improvements to alleviate bottlenecks; and changes at certain key locations to allow 44 tonne HGVs to operate across the whole of the freight network.
The launch of the strategy marks a high point in an on-going collaboration between the two regions which started in 2016.
Vice-Chair of the Marches LEP, Paul Hinkins said: "It's easy to think that the experience of businesses here in the Marches is unique to us, but our neighbours in Mid Wales share many very similar challenges, as well as opportunities.
"When we first examined how the Marches and Mid Wales could work more closely with one another, improved transport links and cross border supply chains were both key considerations. We share several essential road links as well as an important rail infrastructure. It is, therefore, with much anticipation that we're now here to launch this strategy.
"With a lot of work having gone in to this, we hope to influence the UK and Welsh Governments and look forward to the more efficient movement of freight; reduced costs for businesses and reduced negative impacts to both people and the environment."
As a collaborative process, the commissioning and development of the strategy has been managed by a steering group of officers from both sides of the border.
Ellen ap Gwynn, Chair of the Growing Mid Wales Partnership, added: "Whether we're considering a largely single carriageway road network and its impact on journey times and reliability; the effect of agricultural vehicles on the network; or the high levels of congestion experienced in many of our towns and villages, the picture is very similar on both sides of the border. Simply, good road and rail links are necessary for our businesses now and to support future growth both here in Mid Wales and in the Marches.
"It, therefore, made perfect sense to take a co-operative approach, consulting our businesses including freight operators, and our local communities, to better understand the shared barriers to economic growth and how we can work together to overcome them."
Cabinet Secretary for Economy and Transport, Ken Skates, also commented: "Ensuring the efficient movement of freight whilst minimising negative impacts on the environment and residents is vital to our economic prosperity and connecting Wales with the world. I am pleased the Welsh Government has been able to co-fund this Freight Strategy and support the Marches Local Enterprise Partnership and the Growing Mid Wales Partnership in taking forward this work.
"The Freight Strategy rightly highlights the importance of the transport network for businesses and I will continue to work to identify opportunities which will build on our aspirations for economic growth."
The consultation process involved input from a wide range of businesses and local councils via online surveys; business workshops in Ludlow and Newtown; and telephone interviews with key shippers, road hauliers, infrastructure managers and policy-makers.
Chris Rowland of MDS Transmodal, the specialist freight transport consultancy that ran the consultation process and developed of the Freight Strategy, added:
"With both the Marches and Mid Wales experiencing highly dispersed patterns of freight activity; and both relying heavily on a predominantly single carriageway road network, their shared economic and geographic contexts made a cross-border strategy a sensible approach.
"The involvement of a wide range of key stakeholders makes this a robust and positive vision for the future."
Alun Jones runs a major road haulage business based in Welshpool. He said: "It is with great pleasure that we welcomed many of the dignitaries to our depot here in Welshpool as we wanted to be involved in this important event.
"Operating at the coal face of road transport across Wales, the Marches and beyond, we recognise only too well the positive effect that adopting this strategy could have on allowing businesses in the region to grow and become more competitive."
A full copy of the Marches and Mid Wales Freight Strategy can be found at: https://www.marcheslep.org.uk/download/Reports/reports/Marches-and-Mid-Wales-Freight-Strategy.pdf
CAPTION: (l-r) Alun Jones (of T.Alun Jones), Paul Hinkins (Marches LEP), Ellen Ap Gwynn (Growing Mid Wales Partnership) and Rhodri Griffiths (Welsh Government).