Transformation of iconic building continues
Work to transform an iconic Telford building into apartments will continue after a new contractor was appointed to complete the project.
The Wrekin Housing Trust's redevelopment of Haybridge Hall, in Hadley, involves the creation of 10 modern apartments for older people. Following a tender process, the Trust has appointed Novus Property Solutions to undertake the work, which is now scheduled to be completed in Spring 2020.
The project involves a significant investment of in excess of £1.7 million which is being funded by The Wrekin Housing Trust, Telford & Wrekin Council and Homes England.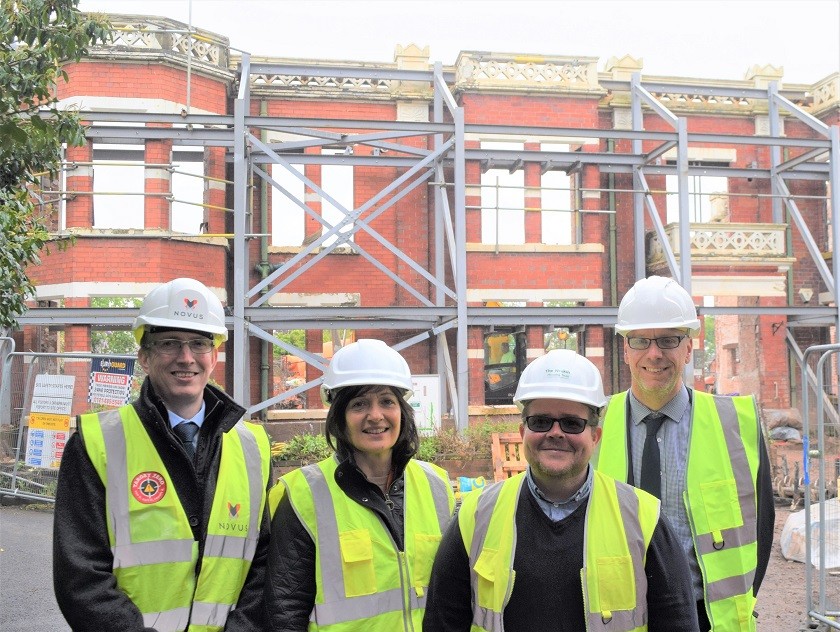 The new homes will offer tenants easy to manage, modern apartments for their retirement with services such as a dedicated retirement living coordinator, newsletters and organised social activities.
Matt Beckley, project manager from The Wrekin Housing Trust, said: "It is great that we have appointed Novus Property Solutions to see this exciting project come to final fruition. The works are now continuing at Haybridge Hall, where our plans involve the partial demolition of the old hall building, but the retention of its original facade.
"We are working hard to create a fantastic living space for future tenants. The building will create 10 retirement living apartments with a glazed courtyard and atrium making it a very pleasant place to live."
Dean Povey, build operations manager at Novus, said: "This project will grant a new lease of life to an excellent building that has been vacant for a number of years. The work will completely refresh the property, allowing it to provide fantastic local accommodation for the elderly for years to come.
"At Novus, we've built up a wealth of experience in heritage refurbishment, allowing us to bring buildings back into use by incorporating modern facilities while preserving and enhancing original features."
Haybridge Hall was built around 1870 and was bequeathed to the people of Hadley in 1965 by Graham Murphy, from the family that owned Wrekin Brewery.
Pictured: From left, Dean Povey (Novus Property Solutions) with Andrea Martin, Matt Beckley and David Hall (all from The Wrekin Housing Trust).