Cafe opens at Albrighton micro pub
Commuters in a small Shropshire village are now going to be able to enjoy a respite from the morning rush hour after a local micro pub announced it is opening a café on site.
The Platform Ale House, which is located at Albrighton Railway Station, is running a month's trial to see if there is enough demand from local residents and regular train users to make it a permanent fixture.
Customers can enjoy a range of breakfast options and hot drinks, including bacon rolls, porridge, teas and coffees, not to mention the chance to pick up a host of lunch rolls for later in the day.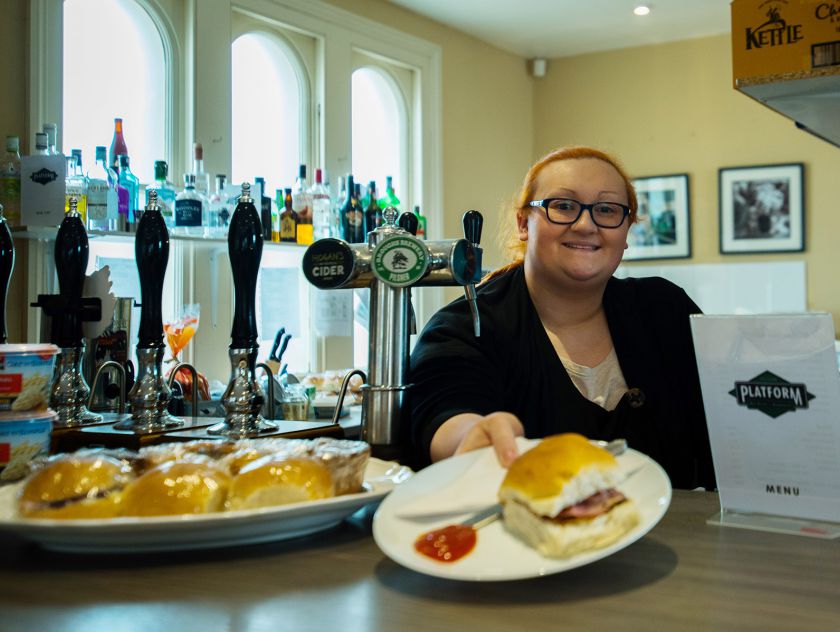 Managed by local lady Jessica Bowrin (pictured), the café will initially just be open during the working week from 6.15am to 10am, with the possibility to extend opening hours or to add weekends if there is enough interest.
"Albrighton is a very busy station in the mornings with many locals heading to Birmingham, Wolverhampton and Shrewsbury. At the moment, there are no facilities whatsoever for commuters…not even a toilet they can use," explained Alison Taylor, founder of Platform Ale.
"This is all going to change with our café now offering a welcoming place to wait for trains, whilst you enjoy the warmth of a log fire, great tasting coffees and some tasty breakfast rolls. We have even become the first business in the village to register for the Free Water Refill scheme, which means you can have you water bottle refilled here…just ask!"
She continued: "When we made the decision to launch the micro pub nearly two years ago, we had one eye on how we could use it to bring the station back to life. This is the next step, a decision taken after gathering the thoughts and views of local people…we need it to be a viable business so if it is going to stay open after the month's trial, we need people to use it!"
Platform Ale House has become a regular fixture on the Albrighton pub scene and for real ale enthusiasts across the Midlands.