Professional advice pays off
Financial planners from a Shropshire firm have taken a top national award after narrowly missing out last year.
Matrix Capital, from Bridgnorth, was named as Estate Planning Adviser of the Year in the 2018 Retirement Planner Awards, and managing director Robin Melley collected the trophy at a prestigious reception at the Waldorf Hilton Hotel in London.
"We were absolutely delighted to win the award – last year we were highly commended, so to take the top spot this year is a great achievement for our team.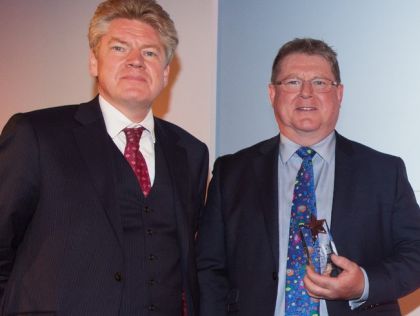 "Estate planning, particularly helping clients deal with inheritance tax on their estates, is forming an ever-increasing part of the financial planning process. Professional advice and careful planning are more important than ever as the law on trusts, estates and inheritance becomes more complicated."
Mr Melley said to meet the increased demand for specialist advice, both he and his business partner Gary Matthews had qualified for the Society for Trust and Estate Practitioners (STEP) certificate for financial services. And they are now working towards further formal Trust and Estate Practitioner qualifications.
"Winning this category is very gratifying because it recognises the significant level of expertise that we have worked hard to achieve as chartered financial planners, and it reflects our commitment to ongoing professional development."
Mr Melley said a review of inheritance tax was currently under way, with the aim of simplifying the tax rules, but careful planning was vital if clients were to navigate their way through the minefield of legislation.
The Retirement Planner Awards aim to highlight the importance of retirement planning, and to celebrate how providers and intermediaries are rising to the challenge of pension provision, particularly given recent pension freedoms. Additional categories were included this year to reflect best practice in estate planning and the growing equity release market.
Pictured: Julian Marr (left) from Incisive Media presents the award to Robin Melley from Matrix Capital