Glamping resort wins another award
A new £6 million Shropshire caravanning and glamping resort, which has recently celebrated its first birthday, has added Shrewsbury Mayor's Award for Tourism to its growing collection.
The Mayor's Awards scheme recognises individuals, organisations, groups and businesses for their achievements which benefit the town.
Love2Stay resort at Emstrey, which is next door to and owned by caravan and motorhome dealership Salop Leisure, won the gold award for tourism and the overall award in recognition of its achievements towards promoting Shrewsbury as a visitor destination.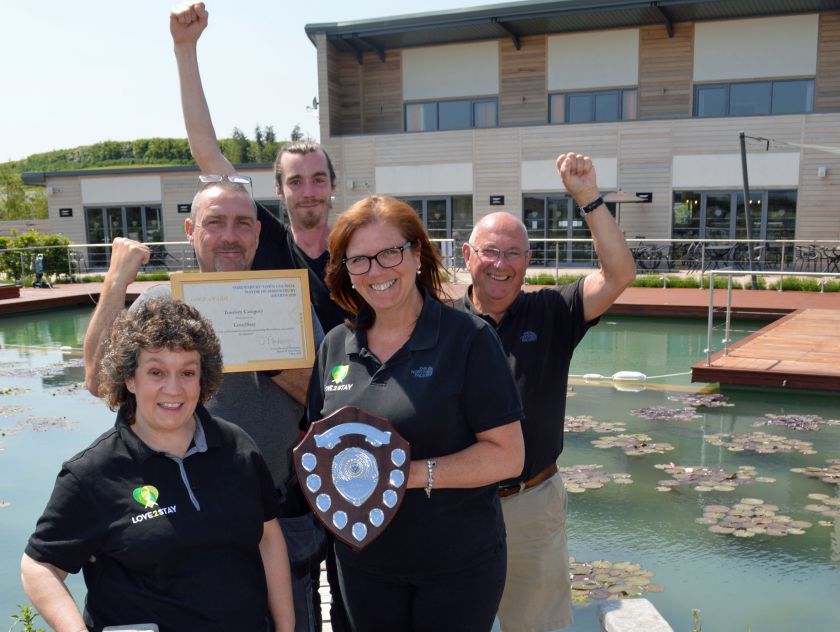 The award was presented by Mayor of Shrewsbury, Councillor Jane Mackenzie, at a ceremony held at the town's Guildhall.
Geoff Plumridge, who manages the resort with his wife, Laura, said: "Winning this award is such a great achievement so soon after the business started. Our aim has always been to promote Shrewsbury and bring more visitors to the area, so we are pleased that we have been able to make such a valuable contribution to the local economy.
"We are delighted that the Love2Stay concept has been so well received by everyone."
He estimated that 56,000 people have stayed at the resort since it opened last May, with every weekend fully booked, other than when heavy snow fell this winter.
Salop Leisure's chairman Tony Bywater added: "The response to Love2Stay has been sensational because there is no other resort like it in the UK or Europe."
The resort, which aims to raise the bar for quality UK holidays, has 124 touring caravan pitches and a village of 11 luxury glamping lodges on a 22-acre site offering panoramic views across to Wales and the Shropshire Hills.
Up to 12 different activities a day are arranged for children ranging from paddle-boarding, kayaking, raft building to bush-craft skills. Staff have found that parents are eager to spend quality time with their children and embrace the resort's 'back to nature' ethos.
Attractions include a Bio-top natural swimming pool, a £100,000 children's adventure playground, a barefoot sensory trail, recreation area, fitness suite, coffee shop and pizzeria, forest school, kayaking, water zorbing and a fishing lake.
An additional facility which has recently opened, following investment of £150,000, is a hot spring and beach, which brings the seaside to landlocked Shropshire. The attraction comprises a real sandy play beach, 240 square metres of heated rock pools, a boardwalk and deck chairs.
Due to be launched this month is a Love2Stay day pass, costing between £2 and £10, which will give customers access to the different facilities between 10am and 5pm daily.
Other awards won by Love2Stay in its first year include the BIOTOP Frogking 2017 award for natural swimming pools, the UK's best site for families judged by Practical Caravan and Practical Motorhome magazines and the Business providing Activities for Young People award at the Shropshire Businesses for Children Awards.
Picture: Love2Stay manager Geoff Plumridge and staff members Charlotte Auterson, Steve and Kay Gallagher and Brendan Leach with the Mayor's Awards for Tourism.