North West Relief Road plans submitted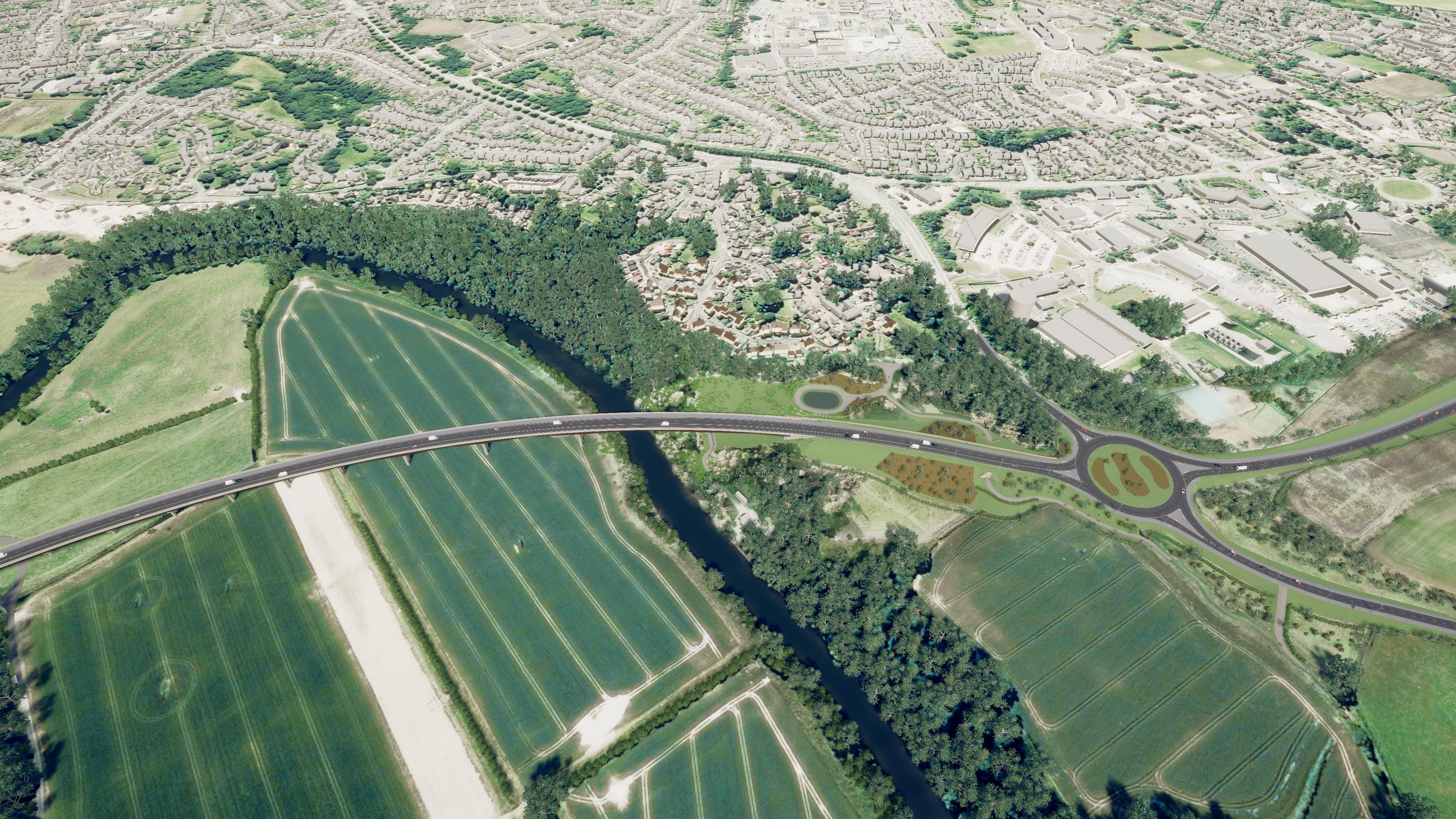 It's been nearly 30 years in discussion and development, but a planning application for the much-discussed Shrewsbury North West Relief Road has today finally been submitted.
Supporters of the route – which will include the largest bridge ever constructed in Shropshire – say it will reduce journey times, traffic congestion, pollution and noise, as well as helping to accommodate planned economic growth.
If approved, it will extend the A53 to provide a new, single carriageway road linking the northern and western parts of Shrewsbury, with bridges over the River Severn and its flood plain, and the Shrewsbury-Chester railway line.
The road would complete the circular bypass around Shrewsbury, connecting the A5 at Welshpool Road roundabout west of Shrewsbury to the Ellesmere Road roundabout at Battlefield in the north.
The whole project is forecast to cost just over £87 million. The Department of Transport plans to contribute £54 million, with £4.2 million from the Marches LEP for the section formerly known as the Oxon Link Road. Shropshire Council will provide the balance of the cost through developer and other contributions.
Construction work could start on site as early as this time next year, with the first traffic potentially using the road by December 2023. There are no flood alleviation plans included in the project, as the road will span the river Severn courtesy of a 668-metre long viaduct.
The planning application says the NWRR would:
Cut journey times by up to 14 minutes through or across Shrewsbury
Reduce traffic in Shrewsbury town centre – potentially by at least 25% along Smithfield Road, helping to improve air quality.
Reduce traffic at peak-time bottlenecks on the A5 such as Dobbies Island and on the B4397, a well-known 'rabbit run' that affects communities including Baschurch, Ryton-XI-Towns and Walford Heath.
Boost the county's businesses and economy through reduced journey times and improved road links.
Matt Johnson, the project lead at Shropshire Council, said it had been calculated that the road could deliver between £35-40 million of value back to the Shropshire economy, through jobs and investment.
Steve Davenport, Shropshire Council's cabinet member for highways and transport, said: "It's a very complex and technical application and a huge amount of work has gone into getting it to this point.
"Although we've carried out many consultations over the years and we continue to have conversations with stakeholders and landowners, this application is a vital next step and will allow the whole community to give their views on it."
Richard Sheehan, Shropshire Chamber of Commerce chief executive, said: "We are broadly supportive of this important infrastructure investment.
"It will create jobs - both in the short term during the construction work, and longer term through the inward investment opportunities it is bound to create.
"It is important, though, that the use of local suppliers is made a priority, and that as sensitive an approach as possible is taken concerning the environmental impact of the route."