Planet Doughnut lands in Shrewsbury town centre
A specialist doughnut producer has launched its first town centre shop in Shrewsbury.
Duncan and Sam McGregor launched Planet Doughnut in their garage at home in October 2017 but demand for their handcrafted doughnuts was such that they quickly needed to upgrade their machinery to keep up with orders.
Duncan said: "Whilst we hadn't made a doughnut in our lives before, Sam has always been a natural baker and I love experimenting with different flavours, plus we're both big fans of doughnuts. So, whilst Sam was on maternity leave after having our son Kai, we decided to give it a go!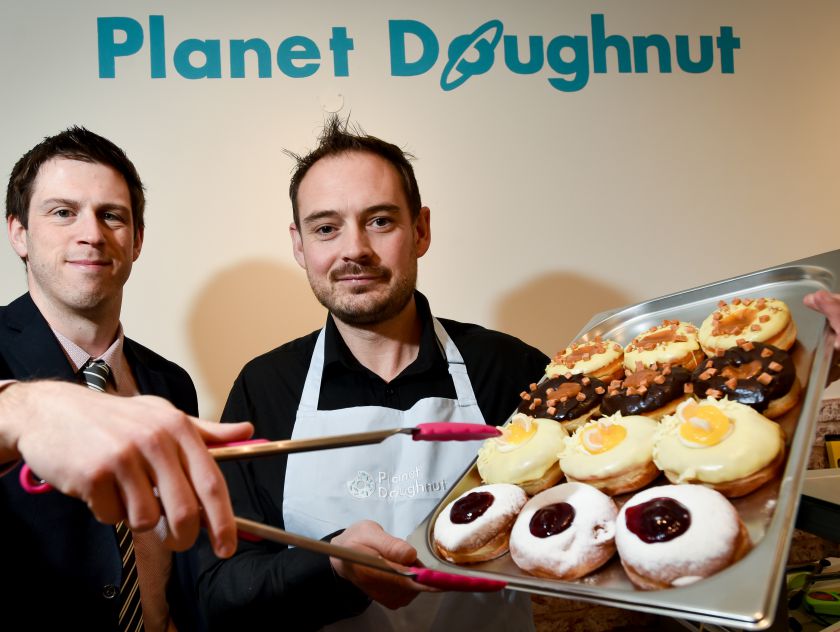 "We could never have anticipated just how popular our doughnuts would be and whilst making customer deliveries we were soon being asked where our shop was.
"This made us realise that was the natural next step in the growth of Planet Doughnut and so the search began for suitable premises."
Having viewed available shops on Pride Hill, Castle Street, Wyle Cop and Hills Lane, Duncan and Sam opted for a unit on Claremont Hill and was due to open for business on Friday May 11. Legal support was provided by the commercial property team at FBC Manby Bowdler.
Duncan said: "Taking the decision to open a physical shop so soon after launching the business meant we needed somewhere that ticked all the right boxes to mitigate any risk.
"High footfall and an attractive shop needed to be coupled with a large enough kitchen to meet the demand for our doughnuts and being located near to the Quarry Park, the Sixth Form College and with ample nearby carparking, this particular shop possessed all the must-have features and oozed charm!"
Duncan and Sam enlisted the support of Adam Davies and David Raymont at FBC Manby Bowdler, following a recommendation from a mutual business contact,
Adam said: "Duncan and Sam have taken a bold and ambitious step forward in order to realise the potential of their new business and it's been a pleasure to support them through this process.
"With three full-time jobs being created with immediate effect, I don't doubt that this is just the start of a very successful future for the business."
Picture: Adam Davies, FBC Manby Bowdler and Duncan McGregor, Planet Doughnut