Training aims to ease work anxieties
Workers at Shrewsbury's Cote Kitchen Cafe have become the first in Shropshire to benefit from a new service designed to help manage the transition back into the workplace for furloughed employees and those whose hours of work may have been changed.
The service aims to address some of the potential anxieties of people returning to work and any potential issues arising from the sudden re-integration of colleagues for those who have remained in place throughout the pandemic.
Staff at the Cote Kitchen Cafe, which is part of the Churncote Farm Shop and Butchery at Bicton Heath, Shrewsbury, were given the opportunity to attend a one-day workshop ahead of the cafe's reopening.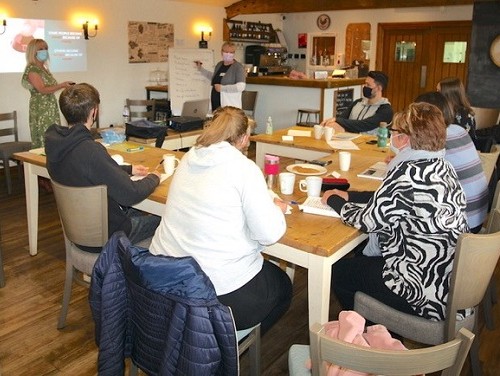 It was delivered by Sam Rogers and Michelle Ede from a newly-formed training company, Team First Support, based in Shrewsbury, which has been created specially to address post-lockdown workplace training issues.
Sam said: "We believe that strong people help build strong businesses, but we know the pandemic and the disconnect caused by lockdown has affected people's mental well-being and their confidence ahead of a return to work. It is said that more than 90 % of employees are concerned about returning to work after lockdown and that many furloughed workers are worried about losing their jobs.
"We offer a range of courses to help people rebuild their resilience, to reconnect with their colleagues in order to build better teams, and to look after general mental well-being."
Cote Kitchen Cafe staff were the first to be offered the service thanks to a mutual connection between Sam and Sue Clarke, who has owned and run Churncote with her husband, David, since 2003.
Sue said: "We have a mixture of furloughed staff - particularly front of house in the cafe - and people who have kept us going throughout the pandemic when, because we're selling fresh produce, we've probably been busier than ever.
"Some of them won't have seen each other for months, so when I heard about Team First Support and the kind of training they offer, it seemed to fit well with what we were planning around at Churncote."
One of those who took part was Alice Goodwin, part of the cafe's front of house team. She said: "The workshop was thoroughly helpful and insightful and delivered in a friendly way. It was very revealing to see how different, and how similar we are - and how we can perhaps resolve conflicts in a different way."
Chef Andrea Birch was another who found that talking about potential issues revealed that a number of her colleagues were experiencing the same return-to-work anxieties: "It has made me feel much less apprehensive, knowing that everybody else feels the same," she said.
Team First Support is Sam Rogers and Michelle Ede.
For the last six years, Sam has been training staff how to deal with aggression and promote positive behaviour support in Education, Health and Social Care settings. She travelled throughout the UK, North America and France whilst also developing the business for the French Market, and before that she spent 16 years as a trainer and training manager in France after leaving the UK Automotive Industry.
Sam said: "The idea for Team First Support came from seeing friends and neighbours around me become physically and emotionally depleted as their frontline work became harder and harder to manage, whilst seeing others working from home becoming isolated and demotivated.
"Along with Michelle, our aim is to give local businesses, health and social care organisations, and public services the opportunity to manage the stress and anxiety caused by Covid-19, lockdowns and other pressures of the previous year."
Michelle is a Registered Mental Health Nurse (RMN) living in Telford as well as being qualified to deliver Eye Movement Desensitisation and Reprocessing therapy (EMDR). Her experience in EMDR has grown while working within the NHS, private services, police and prison services, and in private practice.
Pictured: Team First Support trainers Michelle Ede and Sam Rogers (standing) with members of the Cote Kitchen Café staff