Carpenter nails national accolade
A Shropshire man has won a gold medal at a prestigious national event in Birmingham.
Andy Balmer, 25, who recently completed a Level 3 apprenticeship with Shrewsbury building firm JR Slee in conjunction with Shrewsbury College, and who is now undertaking a two-year BTEC course in construction and the built environment, scooped the gold medal at a recent Construction Industry Training Board contest.
Having beaten other young carpenters from across the Midlands in a regional heat earlier in the year, he then won the top prize at the two-day Skillbuild UK final – the third award of his career.
In front of record crowds at the NEC in Birmingham, competitors were challenged to build a complex roof structure over three days.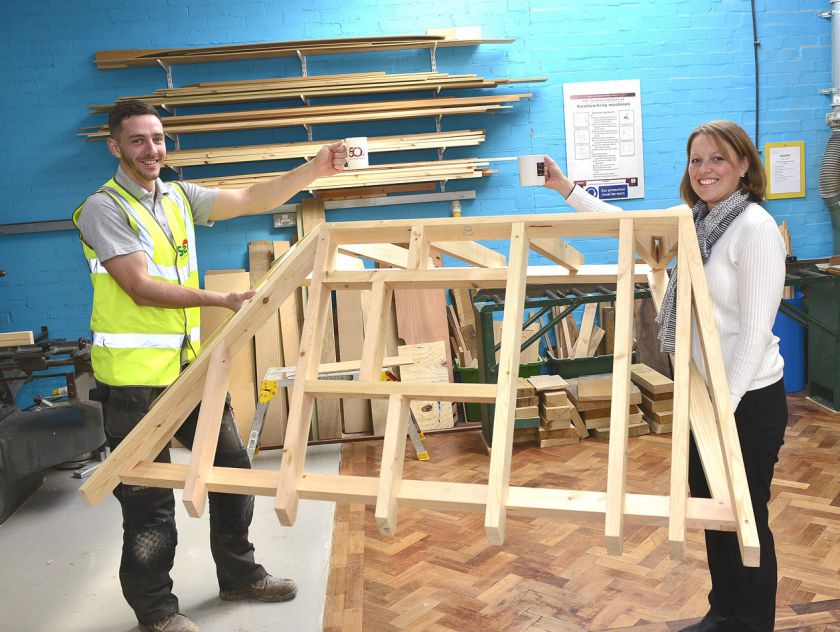 "I was able to complete the task with the most accuracy and was really pleased to be awarded the gold medal," said Andy, who has been with JR Slee, based at Condover, for three years, working on a range of jobs including extensions, new builds and major refurbishment projects.
Andy has previously won the Shropshire Construction Training Group 2016 outstanding apprentice accolade and the 2017 apprenticeship award in site carpentry.
"I am very grateful to JR Slee for supporting me and giving me the opportunity to take part in competitive events and study for professional qualifications. I would highly recommend an apprenticeship as a way of establishing a structured career path," he added.
Helen Slee, a director of the firm (pictured with Andy), congratulated Andy and said the accolades were a reflection of their exacting standards and commitment to the recruitment and training of apprentices.
"In over 25 years of business we have almost continually had at least one employee undertaking an apprenticeship - a long-term commitment which has resulted in consistently exceptional levels of achievement across various trades.
"Andy has done exceptionally well and we are very proud of him and our other employees who have won awards.
"Apprenticeships and trades really do present an inspirational career path and are a true viable alternative to university studies, enabling young people to enter lucrative employment at an early age whilst continuing to study and improve their skills without accruing large debts. Apprenticeships not only provide access to employment, they present young people with the chance to achieve and excel in their chosen field," she said.