Lord Chancellor visits Telford on fact-finding mission
In one brief but frank 10-minute conversation, we had it all . . . the B-word, the S-word, and the F-word too.
Justice secretary and Lord Chancellor, David Gauke, was on a whistle-stop visit to Telford to gauge the views of the business community as we edge ever closer to leaving the European Union.
He'd spent the morning with local business leaders, spanning manufacturing to finance, care and education, before facing the media to reflect on his talks.
With time tight, we plunged straight in with the B-word. What had Mr Gauke (pictured below with Gill Hamer of the Marches LEP) gleaned about the Shropshire business community's mood on Brexit?
"Businesses don't like uncertainty; they understandably want to see it resolved, making sure we can get to a good position where there is possibility to continue to trade with the EU in a way which has happened in the past - but also to trade with the rest of the world, make sure we have got the right skills here.
"What businesses recognise is that we have had a referendum – that result should now be respected in a way that enables us to continue to thrive as an economy and continue to create the jobs that we need."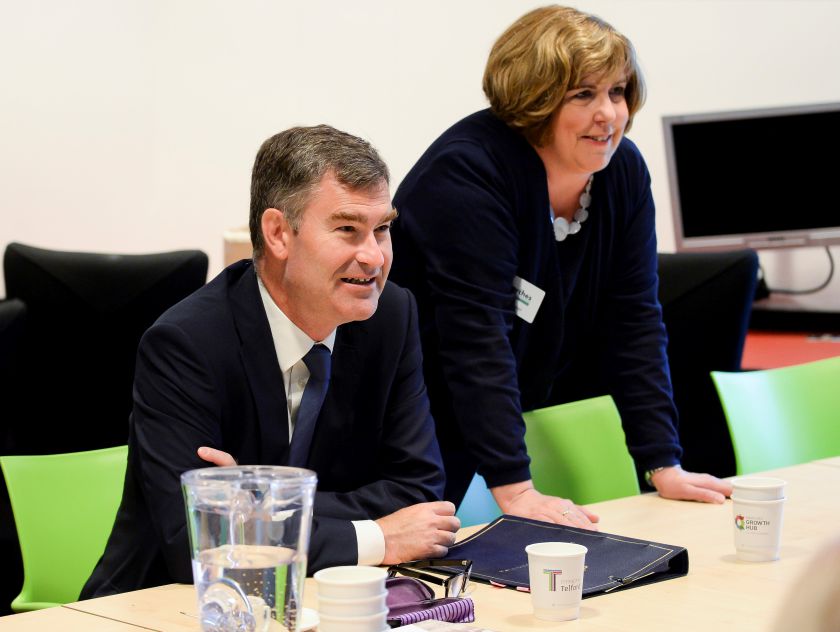 Which brings us to the S-word. Mr Gauke, who is no stranger to Shropshire having relatives in Shrewsbury, said concerns over skills shortages was one of the most powerful messages.
"What came across very strongly is that, with leaving the EU, we have to ensure that we properly train up our own people, and need to make sure that if there are particular roles which need to be filled, we have an approach which is flexible enough to make sure this can be done."
Did he agree with Theresa May's view that no deal on Brexit is better than a bad deal?
"No deal is not a good outcome, but we have to prepare for a situation where we can't reach a deal, which is why the Government is spending a lot of time preparing. Nothing is certain, but it is in our interest and the interest of the EU member states. I would expect a deal to be reached."
Next up in the quick-fire Q&A was the F-word . . . farming.
"There are different issues in different parts of the country, and what the Government is trying to deliver is something which is right for every part of the country.
"We acknowledge that Shropshire is a county with a big agricultural sector, and we need to make sure we can continue to trade agricultural produce across the EU, and take advantage of the opportunities we have to reform the Common Agricultural Policy
"But Telford is an important and growing manufacturing centre, and for these companies we also need to make sure that we don't impose additional obstacles to trade with Europe or the rest of the world."
So was Mr Gauke surprised by anything he heard from the Shropshire delegation? "I wouldn't say anything entirely surprised me, but there was a particularly strong emphasis on making sure we have got people with the right skills.
"What's striking about the Marches is that you have got very low levels of unemployment, and there are shortages and vacancies – we need to find the right people to fill these vacancies."
Mr Gauke also took the opportunity to assure officials he was continuing to monitor controversial changes to the court system, which currently sees all Shropshire remand prisoners having to travel to Kidderminster.
Lawyers have branded the system 'farcical', with reports of police having to waste many hours of time looking after prisoners or travelling between courts.
Mr Gauke made no promises, but said: "These reforms were made after considerable consultation, but we will continue to look at the evidence and continue to monitor to see how the new arrangements are working in terms of court delays."
"Whenever you make a change of this sort it's sensible to continue to look and see how it is working and if it is delivering what we want it to deliver."
Carl Jones