Proud to be growing in Shropshire - Pure and simple...
When he sold his share in pioneering telecoms business Ternhill Communications back in 2002, Matt Sandford admits he had no intention of ever stepping back into the industry.
But absence clearly made the heart grow fonder, and 16 years on, here we are again . . . the telecoms entrepreneur has built another multi-million pound Shropshire-based business all over again.
It's now 12 years since the creation of Shrewsbury-based Pure Telecom, which employs nearly 20 staff with ambitions to build on what has been a sharp period of growth.
Having served as managing director from the outset, Matt has now taken the decision to step into the chief executive's office – leaving David Hayward to assume the MD's duties.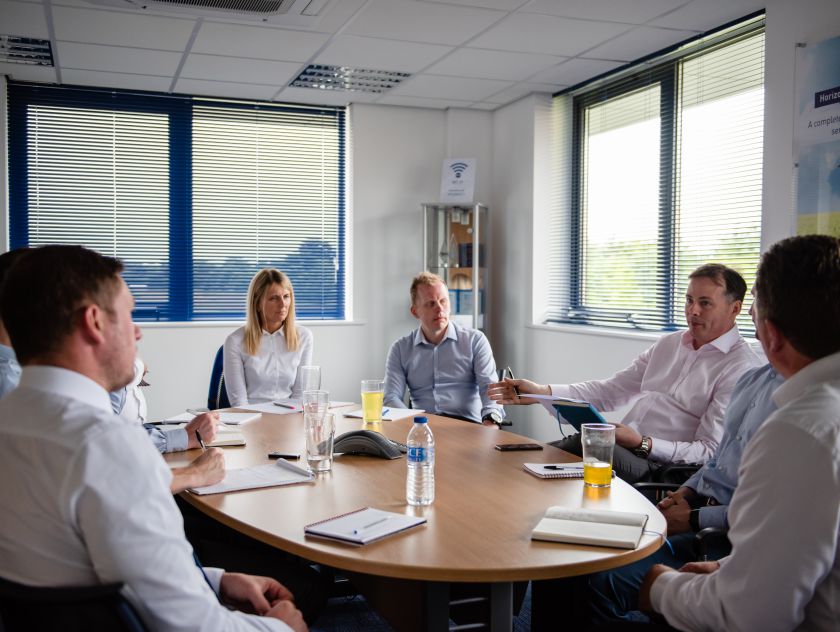 So here we are, the three of us, sitting in the company's headquarters on Shrewsbury Business Park chewing over the past, present and future of the business, and the fast-moving sector in which it operates.
Let's start at the beginning, with the question to Matt about why he eventually performed that U-turn, rolled up his sleeves, and started from scratch all over again?
"I genuinely had no intention of getting involved again, but it all started when some of our former customers, including big names like Laura Ashley, rang me up to say they were struggling to find decent customer service, and asked if I could recommend someone.
"It was flattering to be honest, to think that they were missing what we had been giving them so much – and that was it. Before I knew it, myself and my assistant Stacey Jones had a couple of empty filing cabinets, a pair of PCs, and an office in a converted barn. We were off again."
In the early days, Pure made its name almost exclusively as a mobile phone provider, but has worked hard in recent times to hammer home the message that it is now an all-encompassing communications provider, from mobile and fixed lines to hosted telecoms systems for companies of all sizes across the UK.
For the last four years, Pure Telecom has seen its turnover grow by around £500,000 year-on-year, with an ever-widening product offering including cloud, data security, and co-location services. Mobile telecoms now only account for around half of the company's business.
So where next? That's one of the tasks which Matt now has to tackle in partnership with David Hayward, whose promotion to the managing director's role comes after three years of senior service with the company, and a total of 17 years in the telecoms sector.
He says: "It's all about making good decisions about change – not change for change's sake, but properly thought-through change with a clear rationale behind it.
"The sort of products we provide can be bought from multiple sources, so we have to make sure that we are outstanding, and go the extra mile. We don't want to be known as a company which wins customers, but as one which retains them. And that will only happen if customer service is at the heart of everything we do."
Matt nods: "You can make a lot more money in this industry if you are prepared to cut corners, but reputation is everything to me.
"In the past three or four years we have invested around three quarters of a million pounds in the best possible software systems – and used Shropshire suppliers wherever possible too.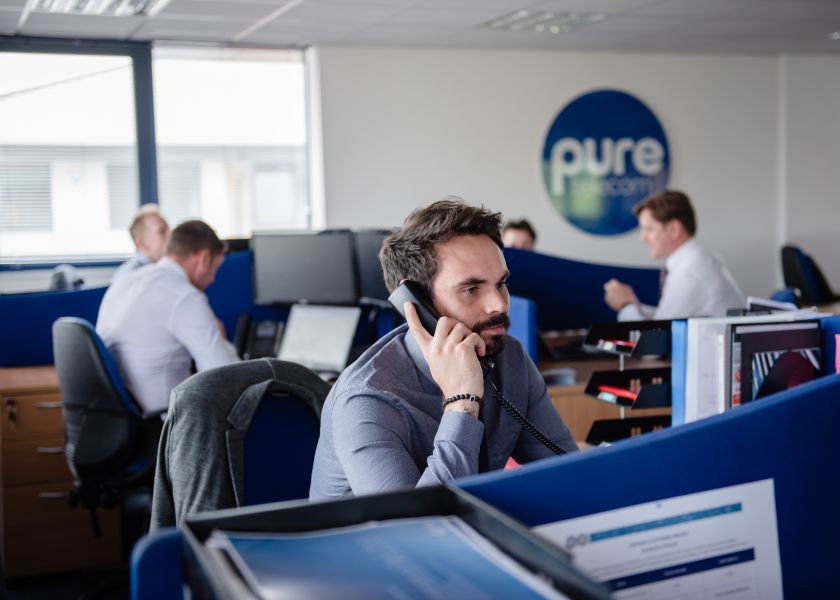 "This county has always been our home ground, which we are proud of. And as far as I am concerned, it always will be."
Pure Telecom says it is also proud to boast one of the lowest staff churn rates in the industry, and the management duo believe this is in no small part down to the flat management structure, open-door policy, and significant investment in ongoing training.
Of the company's 600-plus clients, just over half are in the Shropshire area. Last year was a pinnacle year for the business, as it broke through the 10,000 end user barrier for the first time.
Matt says: "As the business has grown, particularly over the last three years, David has very much become the figurehead in terms of the day-to-day trading.
"All our suppliers and partners have come to view David as the 'go to' person and he has often played a pivotal role supporting the sales team in the winning of some of our major accounts.
"I am not taking a back seat from the business in any way, but have taken up a CEO position because I ultimately take responsibility for the company as the majority shareholder.
"Nothing changes in terms of the day-to-day running of the business - we have some really exciting times ahead of us."
What sort of excitement? Well, growth by acquisition, on top of the current organic expansion, certainly isn't being ruled out, though they are staying tight-lipped for now on any potential targets
But staying ahead of the game and second-guessing top trends is tough in the telecoms sector. If something has already been invented, it's pretty much out of date, making a five-year business plan tricky to cast in stone.
Nevertheless, the company's aim is to have topped the £10 million turnover barrier by 2023, and created many new jobs.
David says: "There is no doubt that products we are not even aware of will be in our possession in just two or three years.
"We need to develop a broad customer base. One of our big challenges is to get the message across that we can be the provider of choice to a huge range of businesses, from the mobile plumber with one phone right through to a huge plc."
It helps, of course, that Pure now has a string of awards to its name. Most recently it picked up a second successive national award for team of the year at the Comms Dealer Sales & Marketing Awards in London, hot on the heels of yet more accolades from its operational partner, O2.
Matt says: "Shropshire is a very entrepreneurial county, and since the development of cloud-based products and services, small businesses can get hold of the sort of stuff that was previously only in the reach of larger clients.
"With the right sort of support, you can work just as effectively on a train as you can in your office. I see our job as playing an important role in allowing people in an increasingly busy world to work smarter, not necessarily harder.
"After all, work is something that you do these days, not a place where you go."
By Carl Jones