Duncan Ward
Duncan Ward is the new chief executive of Network Telecom in Telford, which offers everything a business needs to keep talking, from business phone systems and IT services, to business mobiles, broadband and everything in between.

HOW HAS YOUR COMPANY HAD TO RESPOND TO THE CORONAVIRUS CRISIS? Our focus has been on making sure that our customers have the solutions and the support they need to work from home effectively. From phone systems that plug in at home the same as they do in the office, to business mobiles and IT support, the technology we offer is designed for flexible working. We've been proud to support so many businesses over the last few months, wherever they've been operating from.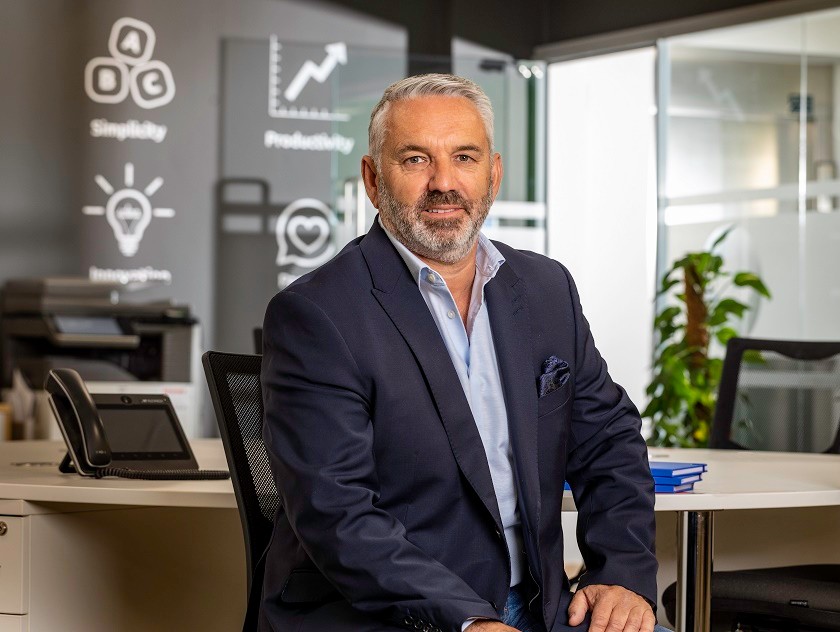 Our engineers have been installing equipment remotely and our product team has been carrying out training sessions via video conference. Plus, we've created a number of new offers, including 3 months free on new phone systems, to help businesses through this challenging time.
HAS THE LOCKDOWN PRESENTED ANY OPPORTUNITIES AS WELL AS CHALLENEGES? Although working from home has had its challenges, there have been lots of opportunities. Like all businesses, we've had to adapt and have started offering remote consultations, training sessions and installations. We've also made the most of video conferencing to keep in touch (and meet people in my case!)
We've had the opportunity to help businesses who were struggling to work from home. Maybe their technology was out of date or they had been putting off moving to the cloud, but we've been able to set them up to work remotely as if they were still at their desks. We've been working hard to help our customers ensure business continuity and keep their teams connected.
WHAT DO THINK THE CURRENT CRISIS WILL MEAN FOR YOUR INDUSTRY IN THE MONTHS AND YEARS TO COME? I think it will mean a lot of opportunity for the telecoms industry. Many businesses are now looking to work remotely more often, or at least have a solution in place that gives them that option. Most companies weren't prepared for it this time round and are now looking for solutions they can use wherever they work, making sure they can keep in touch with their customers, suppliers and colleagues. We have the solutions in order for them to be able to do this.
HOW DO YOU GET THE BEST OUT OF YOUR STAFF? I believe in flexibility, trust, understanding and reward!
HOW MANY EMAILS DO YOU TEND TO GET IN A DAY, AND HOW MUCH TIME DO YOU HAVE TO READ THEM? I get around 200 emails per day and there definitely isn't enough time to read them. But, I have to be responsive and my focus is very much on our customer experience and the delivery of our products and services.
HOW DO YOU HOPE YOUR COLLEAGUES WOULD DESCRIBE YOU? I would like the think that my colleagues describe me as open and straight talking with a 'roll your sleeves up' attitude. A 'happy to muck in' type of person who is experienced, having been round the block, but doesn't suffer fools gladly.
HIGHLIGHTS OF YOUR CAREER SO FAR? One of my main highlights was having successfully built and launched the Orange Business brand, taking more than 20% market share in the business markets. This resulted in the amazing opportunity to travel the world extensively, in particular South East Asia. I loved the culture and their way of doing business.
ANY PARTICULAR AWKWARD OR EMBARRASSING MOMENTS IN YOUR CAREER YOU WOULD PREFER TO FORGET? So many, but I will keep secret!
PET HATES? Jargon, dishonesty, red tape and waffle.
IF YOU COULD GO BACK AND GIVE YOUR YOUNGER SELF SOME WISE ADVICE, WHAT WOULD IT BE? I would take a step back and look at the bigger picture! I'd tell myself not to be so quick to judge and to take the time to utilise and build on the skill sets around me. I'd be a lot less grey if I'd realised that sooner!
HOW DO YOU RELAX AWAY FROM WORK? I have two golden retrievers so I enjoy lots of walks. I also escape to my holiday home in Portugal whenever I get the chance.
WHAT DO YOU BELIEVE IS SPECIAL ABOUT THE SHROPSHIRE BUSINESS COMMUNITY? So far, what has stood out to me about the Shropshire business community is its openness and the support that businesses show one another. There seems to be a very collaborative spirit and I'm looking forward to getting to know it more over the coming months.
TELL US SOMETHING ABOUT YOU THAT MOST PEOPLE PROBABLY WOULDN'T KNOW. I'm still new so there's a lot people don't know about me yet.
YOU CAN TAKE ONE BOOK, ONE FILM AND ONE CD ONTO A DESERT ISLAND – WHAT WOULD THEY BE? The book I would take would be Crossing the Chasm by Geoffrey Moore, the film would be The Italian Job (the original with Michael Caine, of course) and I'd happily take any Coldplay CD.
YOUR FIVE DREAM DINNER PARTY GUESTS, DEAD OR ALIVE? Diego Maradona, Bruce Springsteen, Prince, Barack Obama and The Queen.
WHAT WOULD YOU CHOOSE TO EAT FOR YOUR LAST SUPPER? Definitely lasagne!