Steel manufacturer has ambitious plans
A Shropshire steel manufacturer is aiming to grow its turnover by £1million and create new jobs after securing a substantial grant.
Fabweld Steel Products (FSP) was awarded £30,000 from the European Regional Development (ERDF)'s Business Growth Programme as part of an overall £94,500 investment to improve production process and systems at its Telford factory.

FSP, which designs and manufactures fabricated steel access covers and associated drainage products, says the programme of work will result in greater efficiency and manufacturing capacity and should help it win new contracts within the construction industry.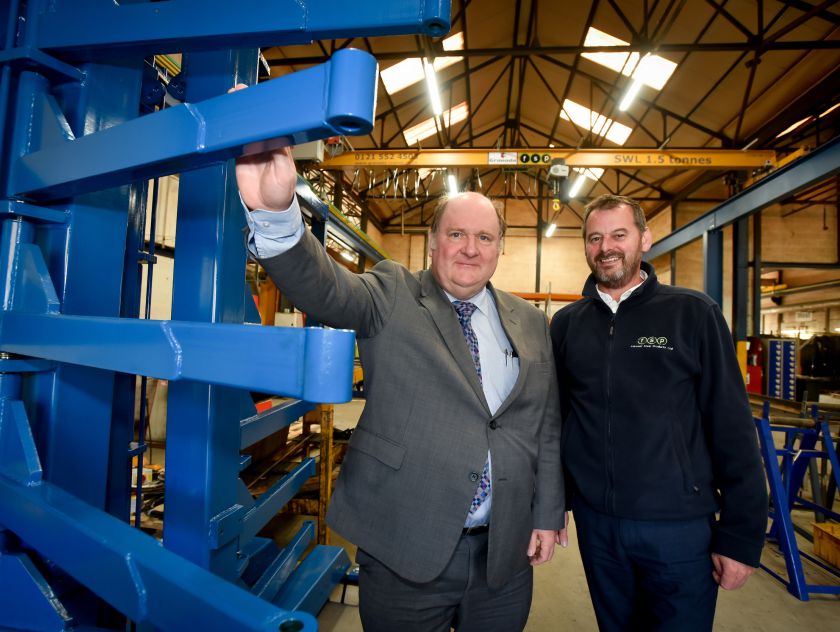 That will lead to the creation of five new roles including a sales administrator, laser operator and welder/fabricators.

The Enterprise Telford team at the Marches Growth Hub Telford & Wrekin supported FSP in its grant application. The Business Growth Programme is available to businesses across Herefordshire, Shropshire and Telford & Wrekin and offers grants to small and medium-sized businesses through a range of funding schemes designed to help them grow and target new markets.

Managing Director Richard Hilton said the investment was paying for new equipment and the reorganisation of the shop floor.

"The previous layout created bottlenecks in production so the restructure will simplify and speed up processes. We will be introducing new handling equipment and increasing our internal storage capacity.

"Carrying out this programme of enhancements will give us more capacity to win new contracts and allow us to respond more quickly to customer demands. We are hopeful it will add £1m to our existing turnover within 24 months.

"Without the grant funding, we would have had to carry out the work in stages. This wouldn't have been as effective and would have reduced the opportunities that a quicker production time will bring. An increased turnover and market share will ultimately lead to a more sustainable future for the business, our staff and our supply chain," he added.

Mark Shaw, Account Manager for Enterprise Telford, said: "FSP is one of our long standing businesses and we were delighted to be able to help them as they forge ahead with their plans for growth. We look forward to providing continued support for Richard and the team as they realise the benefits from this investment which, importantly, includes the creation of jobs."

FSP has also received a £7,000 grant from the Business Energy Efficiency Programme, which is part-funded by the ERDF.

The programme aims to help businesses reduce CO2 emissions through lowering energy consumption, which in turn reduces running costs and improves profitability while increasing environmental awareness.

FSP has put the grant towards a £17,000 package of measures which included installing air heat pump systems for office heating, adding demand controls to its welding extract system, upgrading to LED lighting and raising awareness among staff of energy management.

Richard said: "We recognise the benefits that improvements in energy efficiency can bring in operational efficiency, working conditions, and profit."
Pictured: Mark Shaw (left) and Richard Hilton at FSP