150th anniversary truck takes to the road
Morris Lubricants has taken its 150th anniversary celebrations onto the road with the launch of a new limited-edition truck.
The Shrewsbury-based company has added a new Scania P280 to its fleet, decked out in gold and blue anniversary livery, to deliver to customers across the UK.
It takes the number of trucks in the company's fleet to 16 – a far cry from the days after the end of the Second World War when it was operating with just a single Rover 10 model, after several years of delivering by horse and cart.
Andrew Goddard, Morris Lubricants chairman, said: "With a proud heritage dating back to 1869, we have become one of the largest privately-owned manufacturers of high quality lubricants in Europe.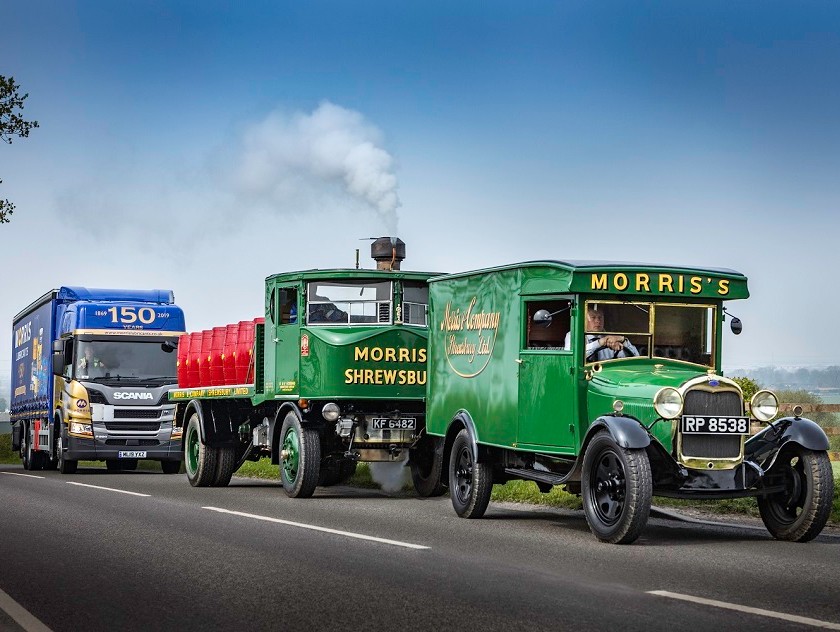 "We've developed a global reputation for delivering quality products and services in over 80 countries, and our anniversary is a perfect chance to showcase the future of the business, and reflect on its history too. That's why, alongside our specially commissioned 150 livery truck, we will also be taking our historic Sentinel steam waggon to a range of events in 2019."
The Sentinel waggons were used by Morris Lubricants in the years leading up to the Second World War, until being replaced with a petrol-engined lorry.
A Sentinel came back into the business when former managing director Leonard Paterson sent his son-in-law David Goddard – Andrew's father - to buy one from the widow of a haulier in Somerset. The vehicle was in the process of being restored at the time, so Morris Lubricants took over the task and returned the Sentinel to steam in 1976.
Mr Goddard, a fifth generation descendant of company founder James Kent Morris, said: "Sitting our new 150th anniversary truck alongside the Sentinel, as well as an old Ford model AA from 1928, is a very visual and powerful reminder of how much we have evolved."
Pictured: The new 150th anniversary vehicle with two of its old counterparts – a Ford model AA from 1928 and the famous Sentinel DG 4 steam waggon from 1931