New warehouse could secure 250 jobs
Stoford Developments has submitted a planning application for a new 123,835 sq ft production warehouse building in Telford, which could secure the future of up to 250 jobs.
The scheme, on behalf of food portion manufacturer Portion Solutions, proposes the development of a single purpose-built warehouse unit on a 6.72-acre plot at Hortonwood 40, just five miles from Telford town centre.
The proposed development includes ancillary office accommodation and car parking, and is designed to facilitate Portion Solutions' production and distribution operations.
Portion Solutions was formed in February 2020, combining the extensive portion packing experience of Single Source Limited and CustomPack. It is the UK's leading portion packer of sugar, sweetener, sauces, salt, pepper and hot beverages and supplies the UK hospitality industry as well as contract packing for some of the UK's biggest consumer brands.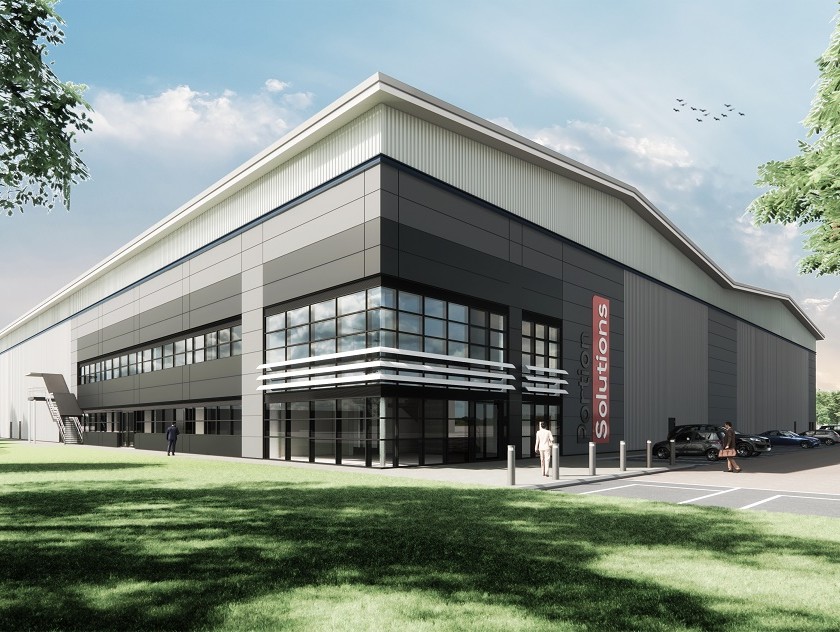 The company currently occupies three separate buildings in Telford, one in Halesfield Industrial Estate and a further two in Stafford Park. The proposed new development will allow it to develop its operations in the area, where it already employs 250 people, and meet the long-term growth aspirations of the business, which could see additional jobs created.
If the planning application is successful, work could start on the new building in September 2021.
Angus Huntley, development manager at Stoford, said: "Portion Solutions is making a commitment to its future in Telford, which is great news for employment in the area. This proposal has the potential to give Portion Solutions a new warehouse, combining three operations under a single roof and enabling it to continue to provide market-leading products to wholesalers, distributors and foodservice operators nationwide."
Fiona Norfolk, managing director of Portion Solutions, said: "This is a significant and exciting development in the life of Portion Solutions. We will have a purpose-built facility in which we will evolve our current capabilities and grow into new areas over the coming years."
Rod Spiby, director of Bulleys Bradbury, which advised Portion Solutions on the acquisition, said: "Portion Solutions' business expansion required additional production and distribution space. The current shortage of quality industrial space in the region resulted in securing land for a new bespoke building to accommodate their requirements.
"A new build also offers additional benefits bringing the current operation under one roof within a higher specification and more efficient building. Portion Solutions' significant investment in the new facility is yet another example of confidence in the employment skills available in Telford and the high quality of the working environment.
"The partnership with Stoford to procure this facility, preserving and creating jobs, is working well and it will be good to see another new building on employment land which has previously lain dormant for many years."
Portion Solutions recently exchanged contracts to purchase the circa six-acre site at Hortonwood 40, together with a development agreement with Stoford Developments.
The professional team behind the planning submission includes Webb Gray Architects, Trinity Property Consultants, Construction Design Partnership, Engineering Services Consultancy BWB, Pegasus Group, Potterton Associates and Ecology Solutions.