Racing ambassadors join forces
You know their names, you know their race results, and you know they're part of the Morris Lubricants family, but do you know what it truly takes to become a standard-setting, record breaking racing driver like Guy Martin, Lydia Walmsley or Dave Jenkins? Well, you're about to find out.
Joining forces for the very first time, Morris Lubricants Racing ambassadors Guy, Lydia and Dave have filmed a six part series of exclusive video interviews that reveal the extraordinary lengths they've gone to in order to realise their ambitions.
"We are all passionate, competitive people that are out to do the best we can in our chosen fields," says Dave, who hopes their collective insight on topics such as motivation, role models and the mental, financial and physical demands of the job, will help and inspire the next generation.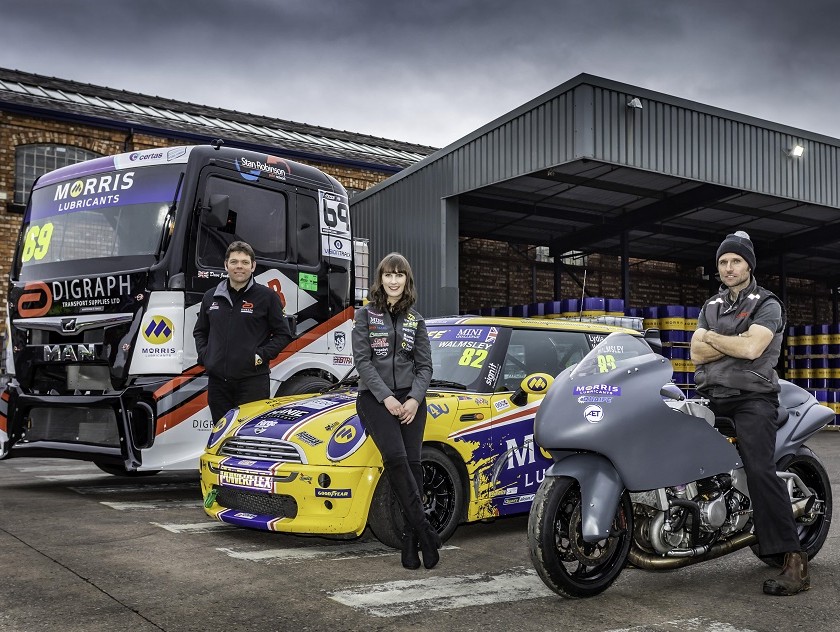 "We work well together because we're different, and we're all very grounded people who come from humble beginnings. I know it's difficult for youngsters starting out, but Lydia and her dad are doing a very good job at running a family team at a professional level.
"When we were filming I learnt something from her when she said 'race the track, not the cars around you.' It shows a huge amount of maturity, I'm 23 years into my truck racing career and I still suffer from making that mistake when I get into the pack."
Each episode, which will be available to watch on the Morris Lubricants website, will see the ambassadors discuss a different element of racing. From the impact it can have on family and friends to the importance of building a strong support network, they will also reveal their finest and most unusual achievements alongside personal experiences of injury, regret, staying grounded and dealing with crashes and clashes on, and off, the track.
"It's so interesting to hear about what events have shaped the people they are today," says 18-year-old Lydia, who races a 1.6 litre Mini Cooper.
"They prove that you can have an elongated career in motorsport. It's inspirational to have that confirmed as that's what I'd like to emulate. Hearing them speak about their passion is very infectious and I hope that I came across the same way. Also, hearing the difficulties they have in raising funds makes me realise that this is something that I have to deal with throughout my career."
Filmed at the Morris Lubricants headquarters in Shrewsbury in a COVID-secure environment, the project was an opportunity for the team to show off their vehicles – including Guy's project 300 bike – and discuss the key role that quality oil and lubricants play in their performance.
"Dave's truck is an incredible piece of kit. It was quite daunting to sit in it whilst stationary so I can't even imagine how it must feel to race it," says Lydia. "He is so knowledgeable about vehicles and their relation to Morris Lubricants products. Clearly this is so important because it allows him to educate the public about the brand and the importance of having the right oil in your vehicle."
Morris Lubricants staff also had the opportunity to meet the ambassadors following a photoshoot in the yard.
"In the current climate, it was important to keep each other safe so everything was pre-planned which ensured the day ran smoothly and put us at ease. It's not every day that Guy Martin turns up in your workplace so if you're someone that follows him and enjoys watching his TV shows, that must have been brilliant for everyone too," says Lydia.
The launch of the series is a proud moment for Morris Lubricants in a year that has seen most events cancelled or held behind closed doors.
Dave said: "This project has been a nice opportunity to give something back. On a normal year we will have guests and customers at every racing weekend, and we get a chance to engage with people. We haven't had that opportunity this year so I'm proud to represent the brand in this way."
Keep an eye on the Morris Lubricants website http://www.morrislubricants.co.uk/garage/racing-stories-morris-lubricants/ and social feeds fand stay tuned for the full videos in the coming weeks to find out what endurance challenge made Guy Martin cry, and hear all about the record-breaking attempt that made him fear for his life.