Building work starts on centre for veterans
A turf cutting ceremony has marked the start of building work on the UK's first dedicated orthopaedic centre for Armed Forces veterans.
The pioneering facility at The Robert Jones and Agnes Hunt Orthopaedic Hospital NHS Foundation Trust (RJAH) in Gobowen will be built by Pave Aways Building Contractors, which is based just eight miles from the world-renowned Shropshire hospital.
The £6m two-storey building, designed by Pinnegar Hayward Design, will feature nine standard examination rooms. There will also be clinic rooms, a treatment and procedure room, an assessment room and a splinting and therapy room, as well as clinic space for virtual appointments.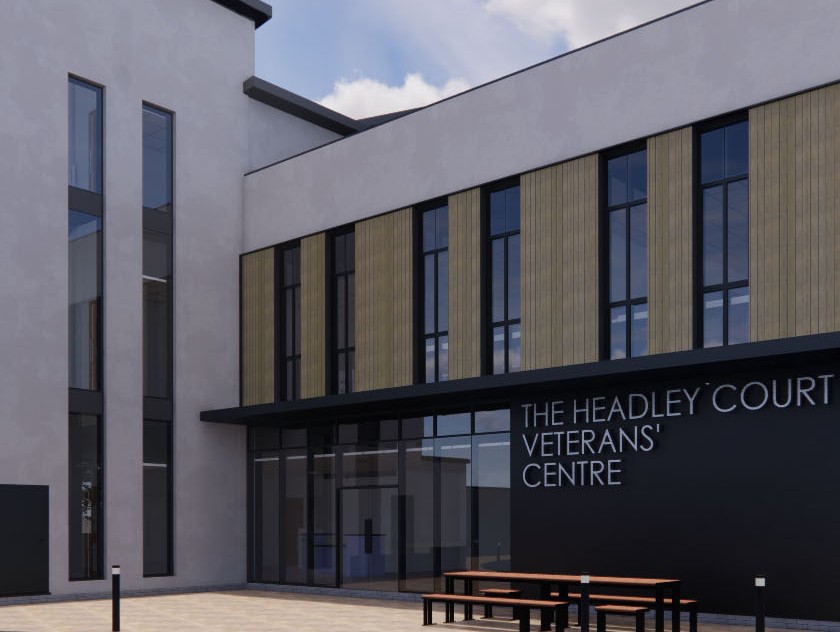 In the main entrance foyer of the centre, there will be a café, as well as a dedicated Veterans' Hub, where Shropshire Council and military charities will provide support to veterans, and their family and friends, in relation to issues that range from homelessness, finance and debt management, welfare, benefits, health and PTSD.
The upstairs of the centre will feature dedicated research offices, clinical teaching and training space for staff, a multi-disciplinary team room, and an office for admin support.
The hospital had initially launched a £1.5 million appeal in October 2018 to build a more modest outpatient facility for veterans but has been able to build a more vast facility, thanks to the support of the Headley Court Charity.
The project will also bring a major economic boost to the local area as Pave Aways will, wherever the specification allows, use businesses in its supply chain that are located within 40 miles of the hospital site.
Pave Aways' managing director Steven Owen said: "We are honoured to have been chosen to deliver this important facility for the Trust and Headley Court. This contract renews our long-standing relationship with the hospital, where we have delivered a number of builds from operating theatres to its flagship main entrance.
"We have extensive experience in the healthcare sector and look forward to handing over this state-of-the-art dedicated centre for military veterans in due course."
Lieutenant Colonel Carl Meyer, a serving army officer who is also a consultant orthopaedic surgeon at RJAH, said: "The breaking of the ground to mark the start of the build of the Headley Court Veterans' Orthopaedic Centre is a day I have long dreamt about, as this marks the beginning of a new era of bespoke care for our veteran patients and serving personnel.
"For several years now, we have talked about veterans being seen in an environment that brings comfort to them and by clinical teams that understand military personnel and their unique needs — and that is going to be the reality, which is just fantastic.
"These are individuals who have served their country and now need looking after in their time of need. There are very few professions where going to work puts you at risk of dying or being severely injured, and I think that level of commitment and service should absolutely be recognised — and I feel proud that RJAH recognises this.
"Thanks must go to the trustees of the Headley Court Charity for their amazingly generous grant, for believing in what we're doing here, and ultimately supporting our long-term vision for world class veterans' healthcare."
Pictured: The £6m centre being built at the Robert Jones and Agnes Hunt Orthopaedic Hospital NHS Foundation Trust in Gobowen