Private hire taxi companies join forces
Two of Shropshire's best known private hire taxi companies Go Carz and Diamond Cars have joined forces.
The move creates a 650-strong fleet of licensed vehicles in Telford. Operating under the existing and well-known Go Carz brand, the deal provides the Telford driver-partners and their passengers an even better experience.
Residents and businesses in Telford will benefit from increased capacity at peak times and the deal also helps the local driver-partners by reducing the dead-mileage between bookings, creating more opportunities to earn.
Passengers can still make a booking by using the existing telephone numbers for Diamond Cars, but the Diamond Cars mobile app is no longer accepting bookings, and passengers should now use the Go Carz mobile app instead. Cash or card payments are accepted on all bookings. Credit and debit cards can be added to the mobile app, or card payments can be made using AirPay - the new Go Carz SMS text message option.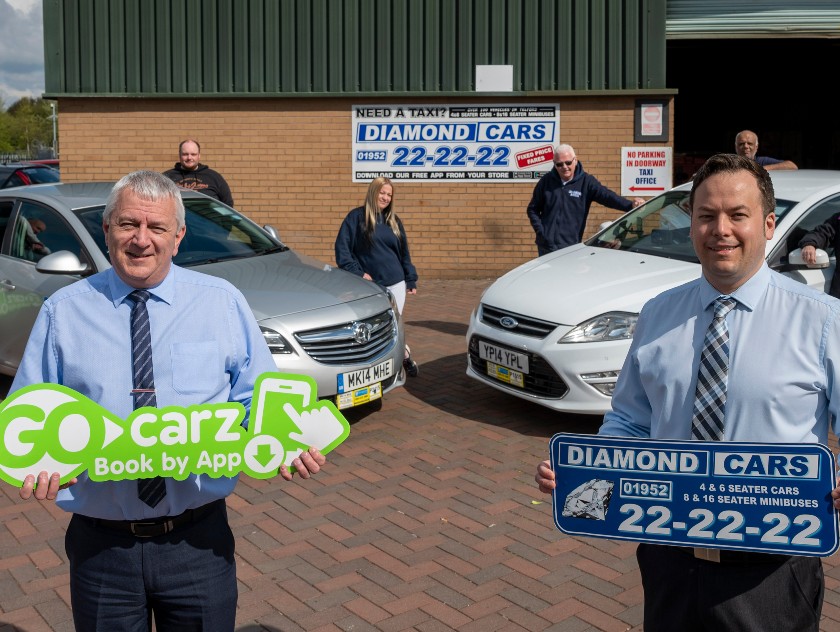 Linda and Nigel Horler, the founders of Diamond Cars, will oversee the transition to Go Carz and retire after 31 years in the business. Their son Dan, a driving force in the Diamond Cars business for many years, will join the Go Carz management team.
Graham Hoof, regional director, said: "We are delighted that Diamond Cars and Go Carz are joining forces and look forward to working with Dan. We now have more cars all operating from one system which means passengers in Telford can expect an even better service."
Go Carz generously provided free taxi rides to the first wave of Teldoc patients receiving their vaccinations in January and February this year. Go Carz was also one of the first private-hire operators to introduce additional COVID-safety measures in 2020 to make journeys as safe as possible for both passengers and driver-partners.
Go Caz is owned by transportation technology innovators Veezu Group. Veezu has four other major service hubs throughout the UK each operating under established local brands – A2B Radio Cars in the West Midlands, Amber Cars in Leeds, V Cars in the South West, and Dragon Taxis in South Wales.