Nursing home residents join birdwatch survey
Two Shropshire-based companies have united to help nursing home residents across the county participate in the largest wildlife survey in the world, the RSPB's Big Garden Birdwatch.
Family-run nursing home operator, Morris Care, and Upton Magna-based CJ Wildlife, specialist suppliers of garden bird and wildlife products, have worked together to set up feeding stations and identification boards for residents across the family of Morris Care Homes.
Residents have been enticing birds into their gardens with the new feeders and specialist bird food, as well as making homemade feeders ahead of the Big Garden Birdwatch which runs from the January 29 to 31.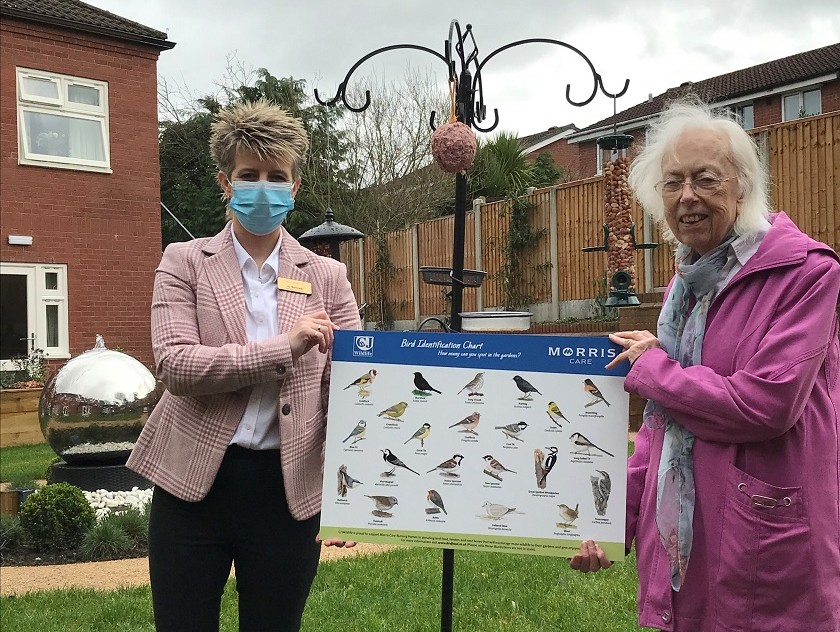 Morris Care chief executive Lucy Holl said: "We are very proud of the beautiful gardens and green spaces our homes enjoy and know that for many residents, birds in these gardens provide an important connection to the wider world and bring a great amount of joy.
"CJ Wildlife have been both generous and supportive, helping us to entice even more and providing information boards so residents can recognise them too. The Big Garden Birdwatch gives our residents the chance to give something back, because nature needs us too."
CJ Wildlife is a specialist supplier of garden bird and wildlife products, with a range of food, habitats and care products. Based on the same farm in rural Shropshire where it all started over 30 years ago, the dedicated team work alongside ornithologists and wildlife experts to research and develop products which can help customers care for more wildlife in their garden.
Rachel Schofield, from CJ Wildlife, said: "This is a lovely collaboration helping give pleasure to residents in Morris Care nursing homes and we are delighted to have donated bird care bundles for their gardens. As this generation has given so much to our communities, it is only fitting that we help them to connect with nature more at this time and benefit their well-being.
"Simple acts of feeding and observing garden wildlife are very rewarding and we hope that our donation will encourage more birds and make this year's Big Garden Birdwatch an extra special event."
Almost half-a-million people join in the RSPB's Big Garden Birdwatch every year. This year's event takes place on January 29, 30 and 31. The public is asked to spend just one hour watching and recording the birds in their garden, balcony or local park, then send their results to the RSPB.
Pictured: Shrewsbury's Radbrook Nursing Home general manager Jo Bennett and resident Sybil Williams with the bird feeders and identification boards, donated by CJ Wildlife