Sparks of collaboration for county firms
A long-standing and renowned Shropshire engineering company has praised the convenience and practicality of working with fellow businesses in the county.
GKN Wheels & Structures in Telford has won a significant new contract for vehicle chassis manufacture and has turned to fellow Telford business, Shropshire Welding Supplies, of Stafford Park, to supply specialist welding machines in a deal worth around £40k.
Project leader for GKN Wheels & Structures, Paul Evans, said: "We have just taken delivery of twelve new ESAB Warrior 400 MIG sets, to replace several four-year-old units originally bought from Shropshire Welding Supplies.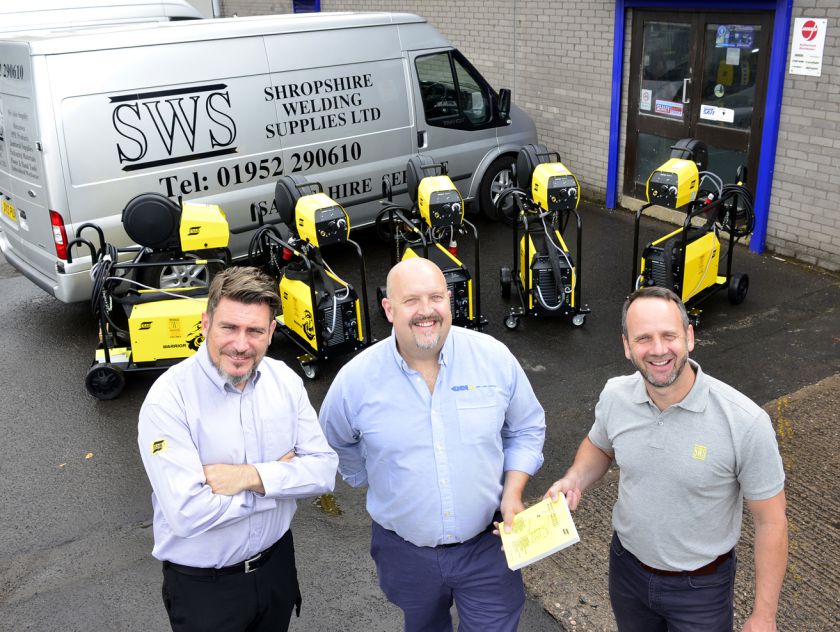 "The previous machines have provided sterling service but these new ones are the very latest inverter technology and therefore highly energy efficient which is very important, and will be used in the manufacture of chassis modules here in Telford for the latest major contract that we have just won.
"The benefits of dealing with local companies are many and ensures that we create a good working relationship with our suppliers and in return, they are always on hand for regular servicing or if unexpected maintenance help is ever needed."
Mark Saunders, director at Shropshire Welding Supplies, said: "We are delighted to have been working with GKN for over two decades and are Platinum Distributors for global company ESAB who make the welding machines, so we have the experience and expertise to be able to offer full confidence and essential customer support to large firms, such as GKN Wheels & Structures."
Pictured: Handing over the first of the Warrior welding machines are Paul Morrison of ESAB, Paul Evans and Mark Saunders, at Stafford Park, Telford