Multi-million pound deal is signed
A Shropshire building firm has won the contract for an £8m project to create a new state-of-the art spa at the Carden Park Hotel near Chester.
A turf cutting ceremony marked the official start of work with the luxury standalone facility scheduled to open in summer 2019, creating a number of new jobs.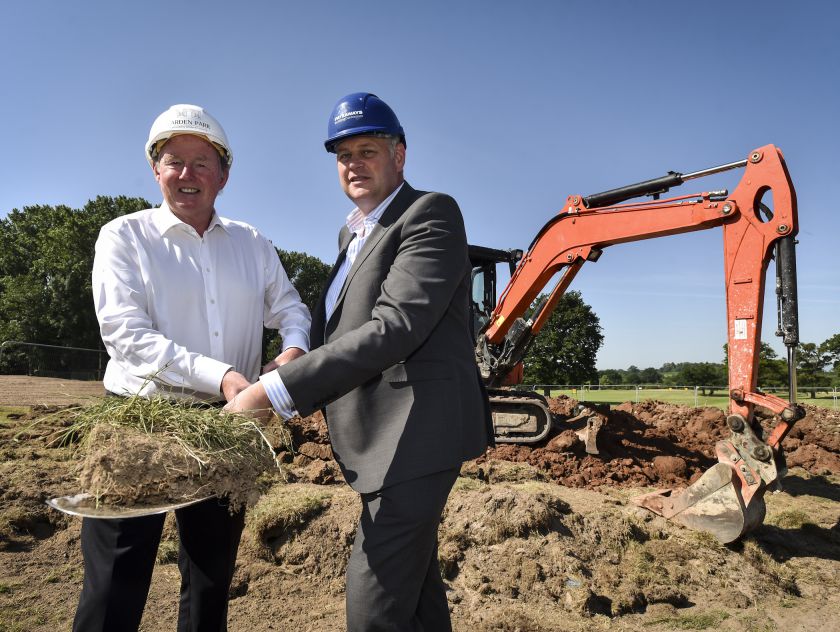 The new spa will be the first of its kind in the region and will be in addition to the leisure facilities currently housed within the hotel. It will feature indoor and outdoor thermal facilities to make the most of the private gardens on the 1,000-acre Cheshire site.
Indoor facilities will include14 treatment rooms, a champagne beauty lounge, large vitality pool, ice fountain, snow shower, experience showers, foot baths and heated loungers. A number of relaxation areas with seating spaces are planned, as well as a first floor lounge and restaurant with far reaching views across the grounds.
The outdoor space will offer a sensory vitality pool, hot tubs and outdoor sauna with private 'secret garden' relaxation spaces and a central bar serving drinks during summer months.
Pave Aways, which is based near Oswestry, is delivering the scheme in partnership with HB Architects from Rugby, structural and drainage engineers Betts Associates from Sealand, Flintshire, spa consultant Nicki Kurran and Glasgow-based Barr & Wray Interior Design.
Steven Owen, managing director of Pave Aways, said: "We are delighted to have won the tender to deliver this prestigious scheme at Carden Park. This is an incredibly exciting project and will provide an unrivalled spa experience in spectacular surroundings.
"The USP of this new spa will be the quality and attention to detail, which are hallmarks of our business. We are very proud to be working on this project and building what I have no doubt will become the premier spa destination in the region."
Hamish Ferguson, Carden Park Hotel's general manager, said: "We're extremely excited to have started work on this ambitious project. The gardens are the jewel in the crown of the Carden Park experience, and the new spa will really be making the most of the natural surroundings that set it apart from anything else in the area."
Pictured; Carden Park owner Steve Morgan and Pave Aways Managing Director Steven Owen break ground on the new luxury spa facility in the hotel grounds