Support for Knife Angel's visit to Telford
Lawyers from a Telford firm have signed up to support the high-profile Knife Angel sculpture during its month-long visit to the town.
The 27ft high statue is made of more than 100,000 blades and it has been on a nationwide tour to raise awareness of knife crime. It has now taken up its latest temporary home in Southwater, and Martin-Kaye Solicitors – who have their head office in Telford – are one of the official corporate sponsors.
Maria Smallcombe, for the legal firm, said: "We are very pleased to have the opportunity to support this iconic sculpture during its visit to the town, and its prime location will mean everyone who visits Southwater will be able to see it clearly and learn more about the important message it represents.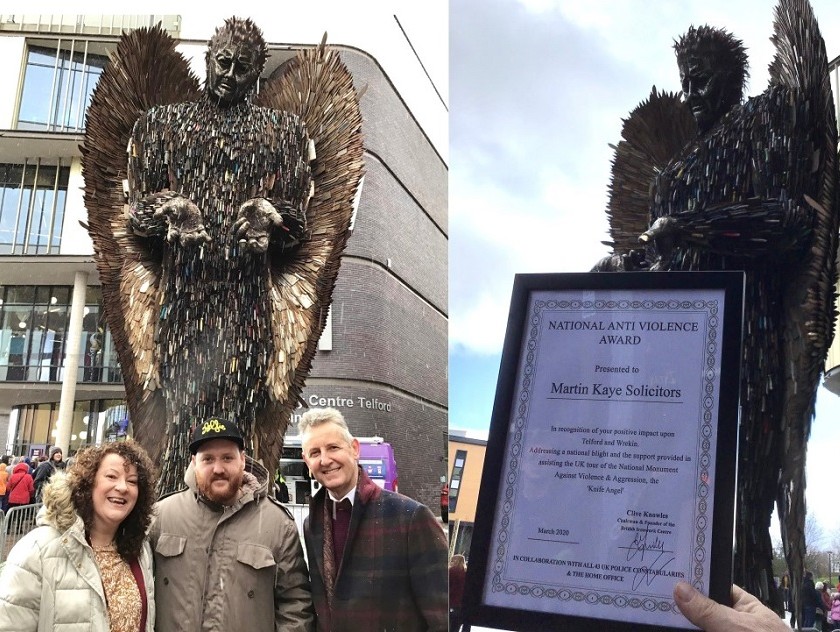 "To secure its presence in Telford is a real coup, and its imposing appearance really does drive home the stark reality of knife crime and the pain and suffering it causes."
The sculpture was created by artist Alfie Bradley at the British Ironwork Centre, near Oswestry, from knife blades collected in amnesties organised by police forces across the country. The blades included flick knives, pen knives, machetes, samurai swords and kitchen knives, and some are engraved with the names of knife crime victims.
The Knife Angel was brought to Telford by Telford & Wrekin Council and West Mercia Police in association with local community groups and organisations who want to help raise awareness of knife crime.
It will be in Southwater until March 29, and school children from across the borough will visit the sculpture to learn more about the issue, with local police officers attending school assemblies to promote the project too.
Pictured: From left, Maria Smallcombe (Martin-Kaye Solicitors), artist Alfie Bradley, and Clive Knowles (British Ironwork Centre) with the Knife Angel in Telford