Vital grant will help business expand
A Telford-based battery pack manufacturer and distributor which was formed by industry specialists in 2010 has secured an £80,000 grant to help spearhead its expansion.
AceOn Group has received the funding through the Marches Building Investment Grant (MBIG) which is part-funded by the European Regional Development Fund, and is aimed at funding extensions, renovations and reconfigurations to commercial premises. For the Stafford Park-based, company this means that a much-needed extension has been made possible.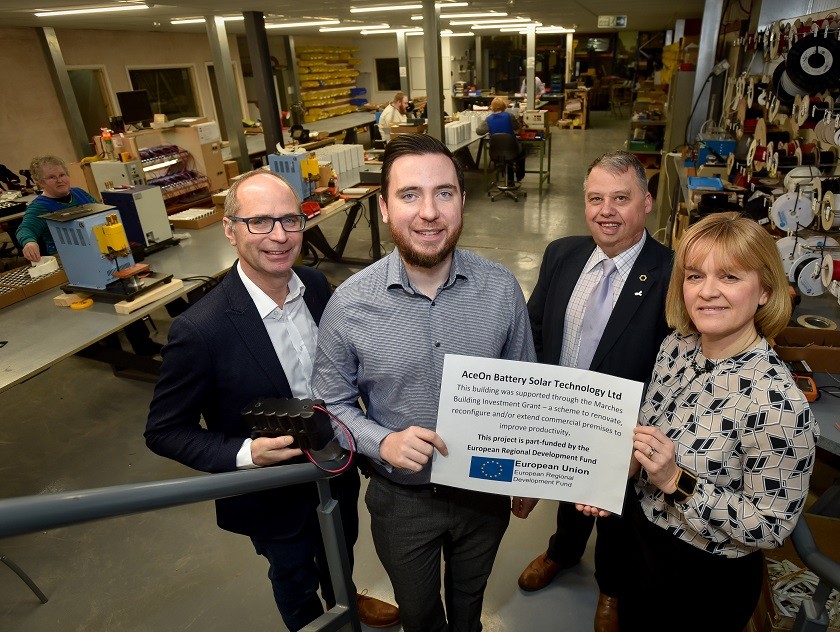 Sales director Alex Thompson, said the future prosperity of the business was hinged on it being able to scale up quickly.
"Increased focus on, and importance of, electric vehicles and energy storage methods have meant that the entire battery sector has grown phenomenally in recent years.
"Our depth of experience in the market meant that we were well placed to capitalise on this growth, but soon after we set up in Telford, we knew that physical expansion would be necessary to fully realise this. Owning the land that our existing facility stands on meant extending was always in our sights, but we realistically couldn't take this forward until sufficient funding was in place."
Without the MBIG funding he said the company would not have been able to expand its facilities, take on more staff and put the foundations in place for continued growth."
Telford & Wrekin Council's deputy leader, Councillor Richard Overton, said: "This is more positive news for another local company and it's great that Telford & Wrekin Council's own business support service, Enterprise Telford, identified the grant and then supported Alex and his team through the application process."
Three new jobs have already been created because of AceOn's expansion, and it is anticipated that another three will be confirmed in the coming few months.
Grant manager Caroline Cattle said: "The team at AceOn has utilised its depth of experience in the battery market to grow a business that continues to have ambitious future growth aspirations. It is a small organisation that has demonstrated a commitment to the fundamentals of business growth, but which has required support to make its visions a reality."
The £2.5 million Marches Building Investment Grant is open to businesses across Herefordshire, Shropshire and Telford & Wrekin.
It awards grants of up to 45% of the total project costs, to a maximum £100,000, which are intended to cover conversion and alteration work.
Pictured: Mark Thompson and Alex Thompson from AceOn, with Richard Overton, and Caroline Cattle, the MBIG grant manager