Small Business Saturday - support your local traders
Shrewsbury Business Improvement District (BID) is calling on people to shop local and support independent traders on 'Small Business Saturday' this weekend.
Start-up enterprises to long-established names will be among those showcasing their individual appeal and customer service as part of a national campaign to celebrate and promote small businesses.
The first Saturday in December is traditionally a busy one as Christmas shopping steps up a gear and the town's independents will use it as a platform to promote their varied and different offer.
Trish Donovan, Owner of Vinterior and Shrewsbury BID Board Member, said: "Shrewsbury's small businesses play a big part in the town centre's appeal as a successful shopping and leisure destination. With their specialist products and services they add much to our thriving high street."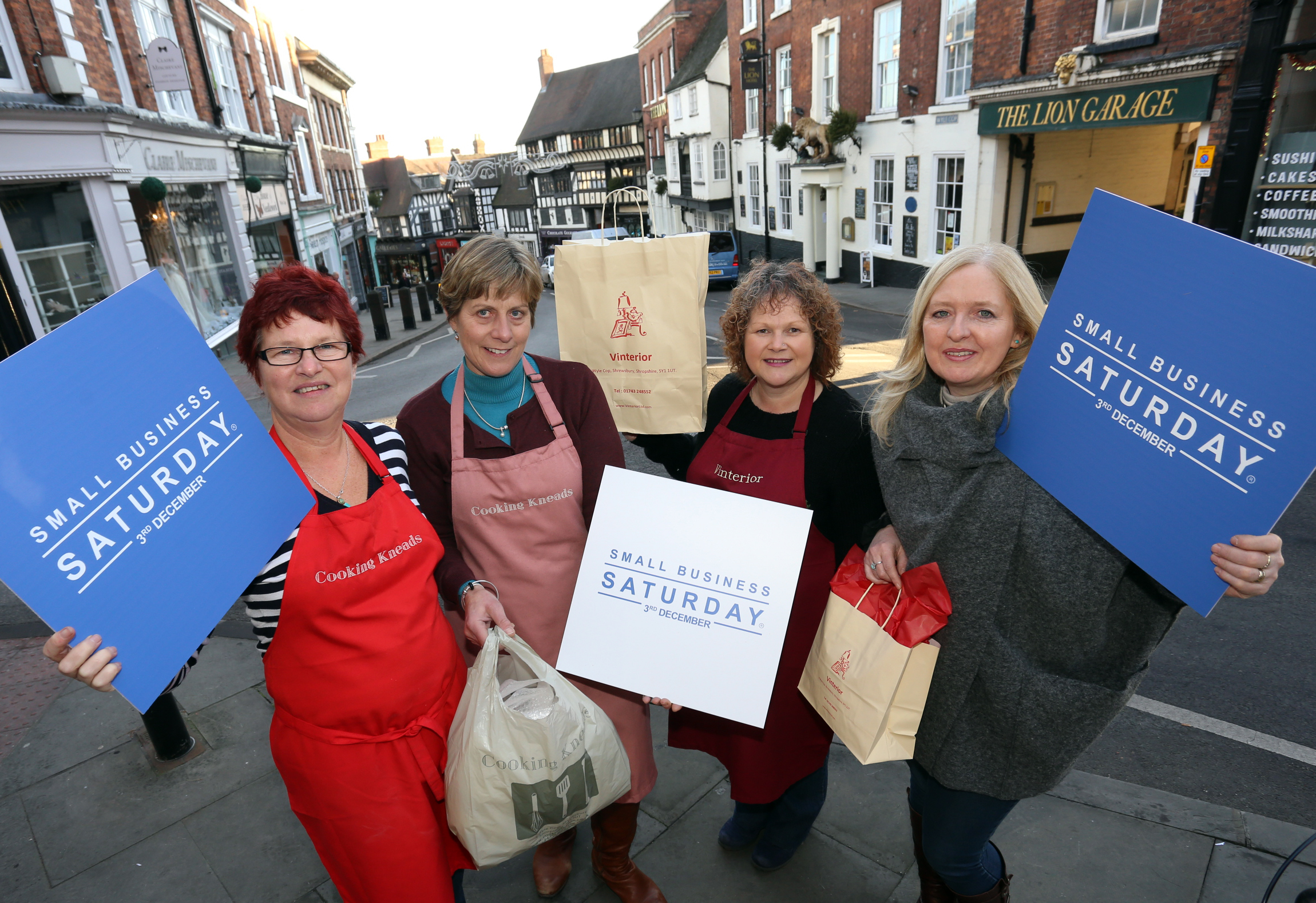 Gill Gradwell, Director of Cooking Kneads, said: "We welcome people's support and hope individuals recognise the importance of Shrewsbury's independent offer, especially on Small Business Saturday."
Last year in the UK, customers spent £623m with small businesses on Small Business Saturday, an increase of £119m or 24% on 2014.
Shrewsbury BID is supporting businesses and traders of all sizes throughout the key Christmas period with events and promotions to add to the festive buzz.
New this year is The Nutcracker Trail to encourage visitors to discover more of what the town centre has to offer. Ten distinctive 6ft 5ins high Nutcracker Kings will be placed at different locations and families and others will be invited to find the names of all ten. The answers can be entered in a draw with the chance to win an iPad Mini.
The trail opens on Tuesday 13th December and runs until Wednesday 28th December. Trail booklets can be picked up from the Visitor Information Centre or downloaded from the website at www.originalshrewsbury.co.uk
The Marches Growth Hub is also hosting Small Business Saturday on December 3, in aid of the county's independent retailers.
To support them, teams from the Marches Growth Hub will be in Shrewsbury and Oakengates on Small Business Saturday, raising awareness of the services it offers to all businesses.
Advisors from Marches Growth Hub Shropshire will be in The Square, Shrewsbury, from 10am to 2pm. Visitors to the hub's stand can take part in a free prize draw to win a Mini for the weekend.
The Marches Growth Hub Telford & Wrekin has joined the partnership behind the Oakengates Celebration of Christmas, which is being held in conjunction with Small Business Saturday.
The annual celebration, which kicks off in Limes Walk and Market Square from 9am, will include a stand from the Marches Growth Hub Telford & Wrekin where people will be able to try virtual reality headsets developed by Telford company, Woote.
The Marches Growth Hub provides a single point of access to business support information in the region through an online portal and dedicated phone line. There are also physical hubs at the Shropshire Food Enterprise Centre in Battlefield, Shrewsbury, and the University of Wolverhampton's Telford Innovation Campus.
Amy Farley, of Marches Growth Hub Shropshire, said: "Shropshire has a thriving independent sector when it comes to retail and Small Business Saturday is an ideal opportunity to shout about their successes.
"The first Saturday in December will be one of the busiest shopping days of the year as people gear up for Christmas so what better time to promote your business? We're urging all retailers to support Small Business Saturday this year!
"Marches Growth Hub teams will be on hand in Shrewsbury and Oakengates for businesses of all types, not just retailers, to find out how they can access funding, support and advice for their organisation."
PICTURE: Rose Norman and Gill Gradwell from Cooking Kneads, Gaynor Jones and Trish Donovan from Vinterior.