Whitchurch switched on to faster broadband
North Shropshire MP Owen Paterson has praised the collaborative working which has enabled hundreds more businesses and residents in Whitchurch to get faster fibre broadband.
The MP has been working with the local community and Openreach – the business responsible for Britain's largest telephone and broadband network – to overcome some unusual technical challenges.
Owen Paterson said: "Finding the right location for the two new fibre broadband cabinets was proving particularly difficult because of the amount of street furniture in this part of the town centre.
"By working together, Openreach and local people were able to come up with a solution and the installation work was completed by the engineers for the benefit of the community."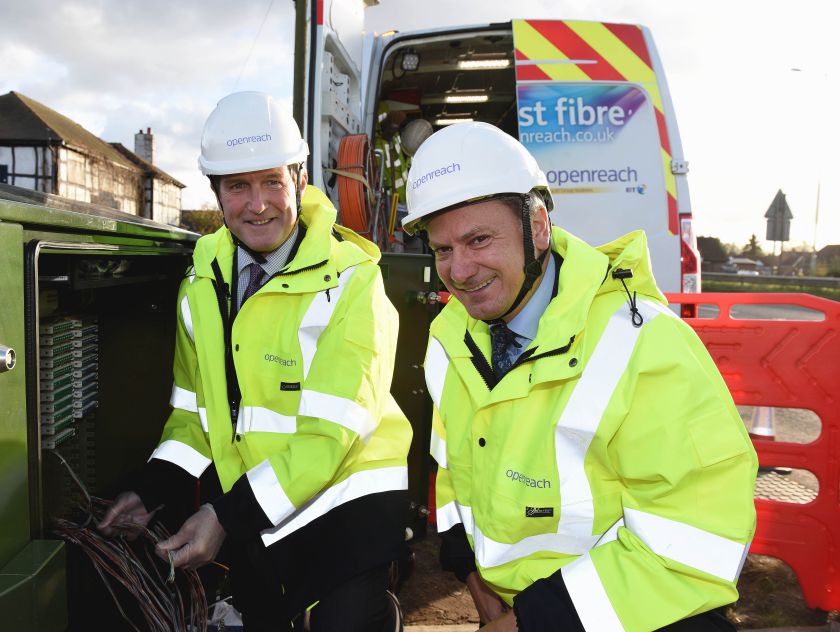 Clive Selley, Openreach's chief executive, who visited the area earlier this year, joined Owen Paterson, the Mayor of Whitchurch, councillors and businesses for today's official 'switch-on'.
Now around 450 more premises in the centre of Whitchurch are able to upgrade, with some already reaping the benefits of faster download and upload speeds. The upgrade work is part of Openreach's £11 billion investment in its open wholesale broadband network. People need to contact their service providers to order the faster services now available.
Will Weston, who runs Galaxy Computer Services in High Street, couldn't wait for his superfast fibre upgrade.
He said: "Having high-speed broadband is absolutely vital for a business like ours. Because of the services we provide, we can be working on as many as 10 computers at any one time, so downloading can be really slow. We hope getting superfast fibre broadband will make us more productive and efficient and help us to provide an even better service for our customers."
Clive Selley said: "Every day we're seeing how fibre broadband technology is changing people's lives for the better, which is why we're working hard to ensure more households and businesses have access to it – in Shropshire and elsewhere.
"It's been great to visit Shropshire again and to witness first-hand the tremendous progress being made and to see how we might be able to work together to help extend the reach of this vital technology still further."
Across Shropshire and Telford & Wrekin more than 218,000 households and businesses can now access faster fibre broadband as a result of public sector partnerships or private sector investment by companies like Openreach, with around 198,000 of them getting superfast speeds of 24Mbps and above.
The switch-on in Whitchurch was followed by a visit to Wistanswick, where Owen Paterson and Clive Selley met residents and businesses set to benefit from the multi-million pound Connecting Shropshire programme, which is being led by Shropshire Council and Openreach as part of the Government's Broadband Delivery UK (BDUK) programme.
They also saw engineers at work on the roll-out and Owen Paterson was given the opportunity to try his hand at splicing some optical fibre cable.
Picture: Owen Paterson MP and Clive Selley CEO of Openreach seeing first-hand how fibre broadband roll-out is progressing in north Shropshire.