MP and dealership endorse initiative
Shrewsbury and Atcham MP Daniel Kawczynski and county councillors paid a visit to a Shropshire caravan dealership to pledge their support for English Tourism Week which lasts until March 25.
A series of events is being held during the week to showcase visitor experiences in England and highlight the major contribution tourism makes to the country's economy. Visit England says the tourism sector touches everyone – visitors, residents, businesses and employees.
"Tourism in Shropshire is one of the main income generators," said Mr Kawczynski during his visit to Salop Leisure's headquarters at Emstrey, Shrewsbury. "Businesses like Salop Leisure who are tapping into tourism generate a huge amount of jobs and prosperity for our county.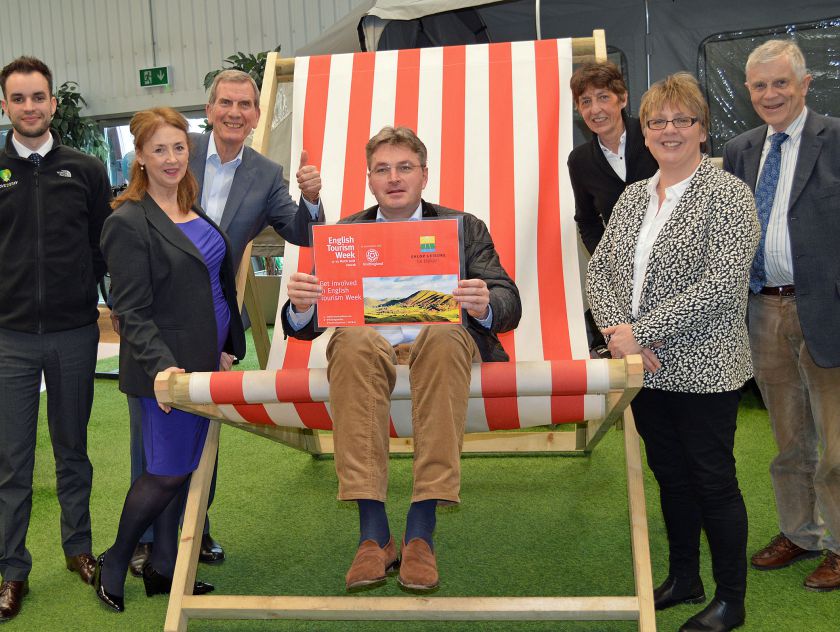 "More and more people want to visit the wonders of Shropshire and experience our magnificent countryside. Given the rate of the pound, we have seen record numbers of tourists coming to the UK and I can only see that continuing to expand.
"I am delighted to support Salop Leisure who have done so much to put Shrewsbury on the map."
One of the first places tourists see when they arrive in Shrewsbury is the railway station and Mr Kawczynski announced that recent investment to upgrade the station would continue, with long-awaited work scheduled to start on Dana Bridge in June.
Councilllor Lezley Picton, Shropshire Council's portfolio holder for culture and leisure, said: "Tourism for Shropshire is immensely important. Shrewsbury and Shropshire have a huge amount to offer tourists and the more we can do to promote it, the better."
Tony Bywater, Salop Leisure's chairman, said: "English Tourism Week celebrates the contribution of the tourism industry, in all its forms, to our local and national economies, to job creation, the environment and our local community.
"Since 2010, tourism has been the fastest growing sector in the UK in employment terms. Britain is forecast to have a tourism industry worth more than £257 billion by 2025.
"I think the tourism industry is going to enjoy its best ever year in 2018. After one of the worst winters for a number of years, I am hoping for a gorgeous, hot summer and Shrewsbury, Shropshire and the Heart of England have so much to offer to people who want to get away on holiday."
Tourism is the third largest employer in England, every day supporting 2.6 million jobs and is a major employer of school leavers and young people and an incubator for entrepreneurs.
The visitor economy is worth £106 billion a year to England, supporting thousands of businesses and impacting on the performance of supplier industries including farming, transport, retailing, sport, museums and galleries, the theatre and other performing arts.
Picture: Shrewsbury and Atcham MP Daniel Kawczynski celebrates English Tourism Week in a giant deckchair with Councillors Lezley Picton, Claire Wild, Jan Redler and Nick Bardlsey from Janet Redler Travel and Tourism and Salop Leisure's chairman Tony Bywater and marketing manager Ed Glover.