Business group sees numbers soar
A Whitchurch business group says it has seen its numbers soar since announcing a big expansion drive.
The Whitchurch Collaborative Networking group says it has been delighted with the success of its campaign to recruit new members – launched earlier this year to raise the group's profile.
It is now gearing up for its annual Christmas meeting, to be staged at Hill Valley Hotel in the town on December 7.
Group spokesman David Burgess said numbers had increased over the last three meetings, with the group concentrating on attracting high-calibre speakers and employing a PR agency to spread its message.
"We have been able to broaden the range of businesses we are attracting, and have also developed a programme of top-quality speakers at our monthly meetings."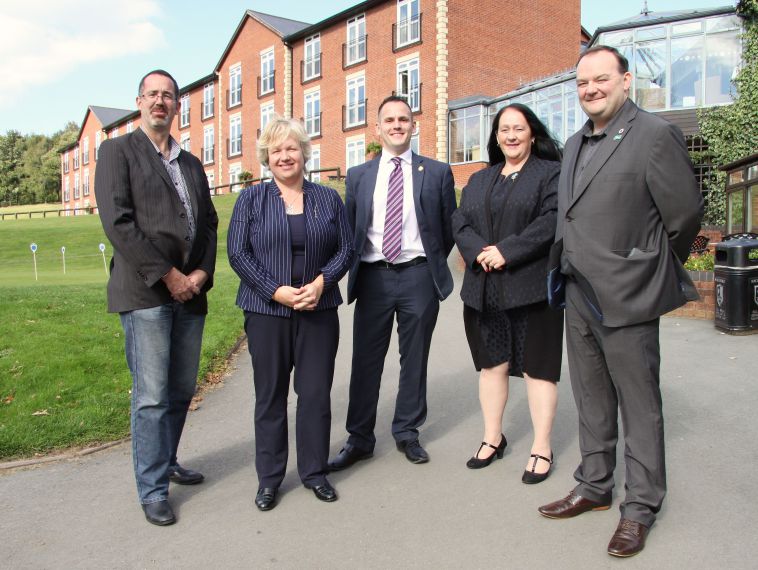 Nearly 30 business people attended the November meeting to hear Tracey Flint, from the Marches Growth Hub, outline the range of grants, training and business support available to small businesses.
Shropshire business doctor Ian Follington will be the special guest at the December 7 meeting, which gets under way at 10am.
He will follow up the advice from the previous meeting by outlining how businesses can accelerate their growth in the new year.
He will be followed by Christmas lunch and there will be a raffle, Hill Valley membership offers and the opportunity for businesses to display their wares at the meeting.
Attendance at the meeting costs just £3 for tea/coffee whilst the three-course lunch costs £15. To book your place contact David Burgess at davidburgess1@btinternet.com. More details of the group are available at www. collaborativenetworking.co.uk
Pictured, left to right: Group members David Burgess, Teresa Jones, Mark Lloyd, Susan Ashcroft and Keith Ashcroft