Two new faces at dealership
Two new sales executives have been appointed at a Shropshire car dealership who will specialise in selling major motor brands.
Tyler Jones and Bekki Cole are the latest recruits to join Furrows of Shrewsbury and they were both employed following recommendations from existing employees.
At the Harlescott Lane dealership, Tyler is working in the Ford department selling new vehicles and it's his first position in the motor trade. Previously, he worked for a mobile phone retailer as a sales floor manager, so he already has sales and customer service experience.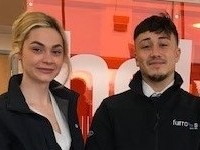 He said: "I am loving working for a family-run business, and meeting new people to help them find the right car that suits their individual needs. There is a lot to learn, but I will be studying on the Ford training scheme alongside my day-to-day duties, and the dealership is a great environment to be working in."
Bekki, who is from Bridgnorth and who is World and British Powerlifting Champion in her class, has joined the Mazda and Kia sales team in Shrewsbury, and she already has valuable years of customer service behind her.
"It's a complete change of career for me as I've spent the last six years working for Aldi as a deputy manager, but that role means I have gained lots of customer-facing experience," said Bekki. "Working for Furrows is something totally different to what I know, but it's a new challenge, a new career, and I'm really keen to learn all I can about the innovations and technological advances in the Mazda and Kia ranges."
Furrows of Shrewsbury dealership principal, Antony Frost, said: "We're always keen to welcome new employees who are positive and forward-thinking, and who are prepared to commit themselves to the extremely high standards of customer service we are looking for.
"Tyler and Bekki are the latest additions to our growing Shrewsbury team, and we're sure they will fit in extremely well with more experienced colleagues who are all happy to share their knowledge with anyone who joins the Furrows family."
Pictured: Bekki Cole and Tyler Jones – new starters at Furrows of Shrewsbury