Matthew Orme
Matthew Orme is director of Wenlock Spring, the famous water brand drawn from a natural source beside the Wenlock Edge, in use since 1086. He has been in his job since 1996.
TELL US A BIT ABOUT THE BUSINESS? We're still an independent family-run business, started by my parents, Robert and Sue Orme, in 1989. Our central focus has been to bottle premium quality water that is responsibly sourced and packaged in an environmentally conscious way. Bottled exclusively for the hospitality sector, our brand celebrates 'provenance, style and sustainability'. Wenlock Spring still water was recently awarded Gold for taste in the prestigious BBI Awards, the seventh consecutive year that we've taken a top spot.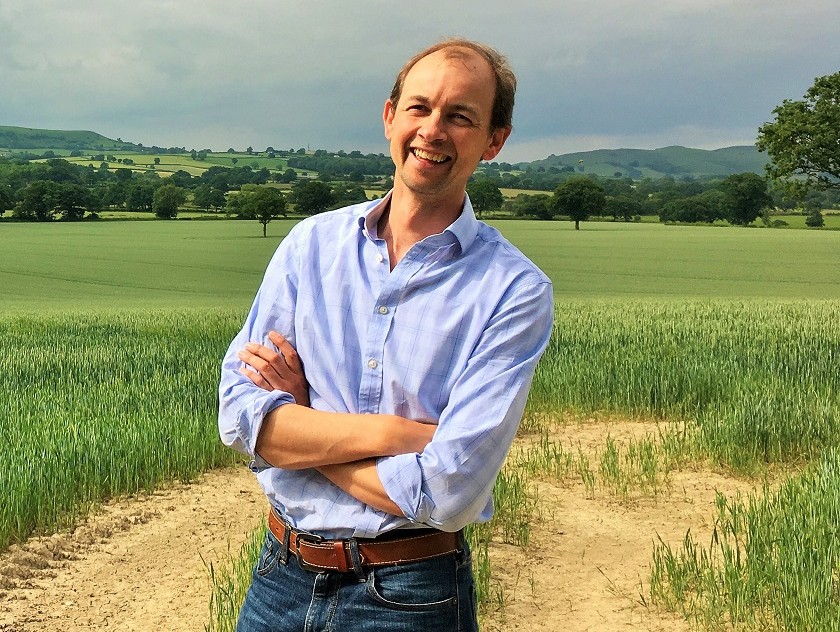 EXPLAIN A TYPICAL WEEK IN YOUR WORKING LIFE: A bit of everything! From operations to health and safety, brand and label design, costing and budgeting and operational visits. Around 30% of my time is taken up visiting customers and 20% with new opportunities, and the rest is building and developing the brand.
WHAT IS THE BIGGEST CHALLENGE FACING YOUR INDUSTRY RIGHT NOW? Recruitment can be a concern and a shortage of staff, especially as we're in a rural setting. Carbon footprint, sustainable materials and packaging is an industry-wide challenge, but at the same time an opportunity. There needs to be a greater focus on educating consumers about materials and their pros and cons. For example, with the huge increase in recycling there are many mixed messages and partial truths about different packaging options. Better education about packaging choices is needed.
AND WHAT ARE THE BIG OPPORTUNITIES? As the market continues to develop, there are multiple opportunities for us to explore and develop packaging initiatives. There are also lots of opportunities to develop the farming side of the business in terms of developing biodiversity and techniques. For example, planting Miscanthus, a revolutionary biomass crop which absorbs more carbon than it releases. We're looking into planting this to fuel our onsite biomass boiler with the goal of producing all of our own energy on site.
HOW DO YOU GET THE BEST OUT OF YOUR STAFF? With such a diverse workforce, they all have their own experience and knowledge to bring to the table. It's important to give people the opportunity to submit their ideas so they know their voice is being heard. When we rebranded and created a new bottle design, we were open to hearing everyone's opinion. The staff are a real community and we nurture a friendly, relaxed working environment.
WHAT WAS YOUR LAST MEETING ABOUT, HOW LONG DID IT LAST, AND WAS IT PRODUCTIVE? We have an operations meeting every week where we discuss ideas and challenges – it usually lasts an hour!
DO YOU ANSWER WORK CALLS OR EMAILS AT HOME? WHAT'S THE RIGHT WORK-LIFE BALANCE? I try not to look at my emails when I'm at home, but I will scan them for anything important.
HOW DO YOU HOPE YOUR COLLEAGUES WOULD DESCRIBE YOU? I would hope they'd say I'm fair, positive, approachable and open to new ideas.
BREXIT – WHAT'S YOUR VIEW OF WHAT IT'S ALL GOING TO MEAN? I voted to stay in, but a decision now needs to be made to move it along and make a decision. Being on the fence as the situation is now is very disruptive.
HIGHLIGHTS OR LOWLIGHTS OF YOUR CAREER SO FAR? Working in America and learning about farming was really fruitful and a fantastic time in my life. At Wenlock Spring, being one of the first water brands in the UK to invest in using recycled plastic in the production of our PET range, as well as focusing on sustainability across the business was a massively positive and exciting step. In terms of lowlights, there was a time when I didn't have a good work/life balance. I was working long hours so I didn't appreciate the good things going on around me - something I've learnt to combat.
PET HATES? When people are late to or leave meetings early, and are distracted by their phones. If you've committed to a meeting you should be present and give people there your undivided attention.
HOW DO YOU RELAX AWAY FROM WORK? I love spending time with my family, and cycling is a big passion of mine. It's great when this is combined on a family bike ride.
WHAT DO YOU BELIEVE IS SPECIAL ABOUT THE SHROPSHIRE BUSINESS COMMUNITY? I find everyone is always approachable and personable. There is so much talent and skilled people on our doorstep; working with local businesses is something we're always very keen to do!
TELL US SOMETHING ABOUT YOU THAT MOST PEOPLE PROBABLY WOULDN'T KNOW. I am a fully-qualified Coastal Skipper.
YOU CAN TAKE ONE BOOK, ONE FILM AND ONE CD ONTO A DESERT ISLAND – WHAT WOULD THEY BE? There was a book I read by Wilbur Smith that stuck with me. Film wise, the Bourne films are classics. CD: U2 Achtung Baby always gets me going.
YOUR FIVE DREAM DINNER PARTY GUESTS, DEAD OR ALIVE? Keith Lemon, Donald Trump, Alex Ferguson, Bradley Wiggins and Benny Hill. I think these characters would make for an interesting night…
WHAT WOULD YOU COOK FOR THEM…? A farmer's feast . . . T-bone steak with all the trimmings and apple crumble. Washed down with slightly chilled Wenlock Spring served like a white wine – chilled but not straight from the fridge. No ice or slice!