Tim Beech
Editor of BBC Shropshire
IN A NUTSHELL, TELL US ABOUT YOUR JOB: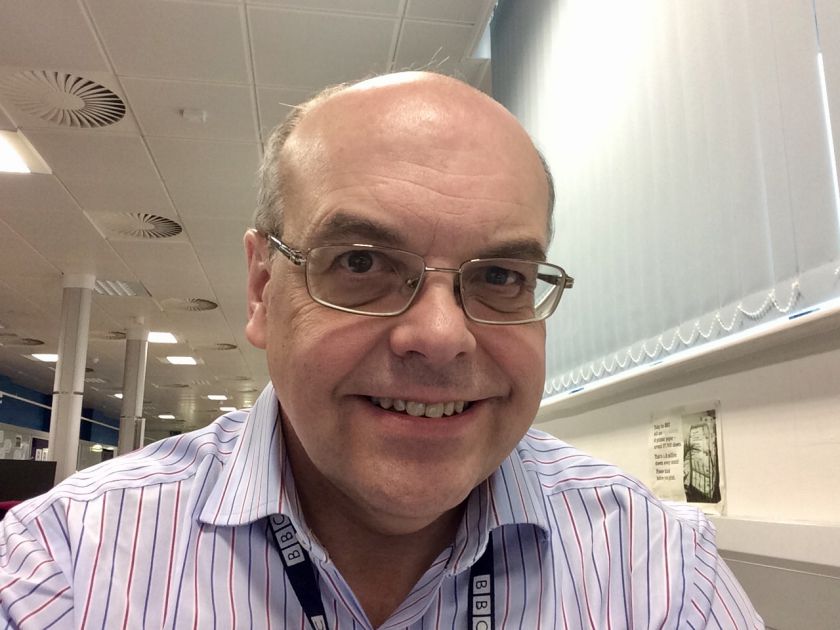 The BBC's a public service organisation with a core mission to inform, educate and entertain. Our part of it – BBC Radio Shropshire – does that for our county. We aim to reflect and celebrate what life's like around here, help people find out about what's happening, play music they love, and be great company by entertaining them through presenters they know and want to spend time with.
We're consistently in the top three BBC Local Radio stations in England for audience reach within our transmission area, and hit the top spot twice in 2017.
HOW LONG HAVE YOU BEEN IN YOUR CURRENT JOB?
I've been Editor for 12 years, which I'm often reminded makes me a newcomer in Shropshire!
EXPLAIN A TYPICAL WEEK IN YOUR WORKING LIFE:
There's really no such thing as a "typical week," but running BBC Radio Shropshire involves managing budgets, contracts for staff and presenters, making editorial decisions, representing the station, and managing the relationship with the wider BBC. It does involve travelling to Birmingham and further afield fairly regularly too. But I try to spend as much time of it as possible with people – listening to them, talking to them and hopefully encouraging them to be the best that they can be. I'm also a BBC Executive Coach and I love the involvement with people's development. Leadership for me is nearly all about people – if they feel valued, trusted and appreciated, they'll do great work.
WHAT IS THE BIGGEST CHALLENGE FACING YOUR INDUSTRY RIGHT NOW?
Changes in technology have transformed the way we consume and use media of all sorts over the past few years. Keeping abreast of that is a huge challenge, which involves technical development, learning new skills and recognising the changing demands and expectations of audiences who now have so much more control over what they see and listen to – and when. This involves cost, but it also demands speed – the pace of change in media delivery and consumption has never been faster in human history. Those that fail to adapt will inevitably fall by the wayside.
AND WHAT ARE THE BIG OPPORTUNITIES?
The technological changes are also an opportunity as well as a threat. Your content can reach more people, more quickly and in many more different forms than ever before. We're now seeing companies grow exponentially – Netflix's revenue was $2.2bn in 2010. Last year it was $11.6bn. It's found a business model based on the relatively recent ability of consumers to stream a wide-range of content, on demand, straight to their TV or other digital device. And they're spending around $8bn on content in 2018; the BBC's total licence fee income in 2016-17 was around $3.8bn.
So the chance to grow really fast, if you get it right, is enormous. But the risks of being left behind are greater than ever.
HOW DO YOU GET THE BEST OUT OF YOUR STAFF?
As I said before, leadership for me is pretty much all about people. It's people who present the shows, create the content and make the workplace environment. I'm very proud of the way our staff surveys show up how much people love working at BBC Radio Shropshire, because I believe you can hear that spirit on the radio. They'll also then go the extra mile for each other too. It helps as well that most people who are in this kind of business really want to be there, and care passionately about what they do.
We're very aware we have duties as a licence fee funded operation and we work hard, but there always has to be room for some fun. We need a creative, positive, environment so it can be fun for listeners too.
And we try to celebrate each other – staff nominate each other for going the extra mile and they're included every week in the station newsletter. And every year we have the Susie Parkes Award to mark outstanding work, which we have in memory of our colleague Susie who tragically died at the age of only 27 back in 2007.
Ultimately it's people who determine whether BBC Radio Shropshire is a success.
WHAT WAS YOUR LAST MEETING ABOUT, HOW LONG DID IT LAST, AND WAS IT PRODUCTIVE?
We just had a staff meeting to generate ideas for content to go into the new evening shows which are due to start later this year. It lasted around half an hour and we generated around 15 headline ideas, with lots of strands going off them. Not all will make of course, but it was a great starting point.
The key for me is planning – knowing exactly what you want as the outcome from a meeting and keeping the goal in sight. But I'll admit some are better than others!
HOW MANY EMAILS DO YOU GET IN A DAY, AND HOW MUCH TIME DO YOU HAVE TO READ THEM?
I don't count, but it's often well over 100 to me personally (and lots more to the station email of course). Some are clearly irrelevant or "junk," so I can safely ignore those and you tend to develop an eye for it. If I spent just 2 minutes on each email I receive, around half my working day would have gone. And I wouldn't have spoken to a single human being!
One of the biggest "crimes" is the cc button – people tend to copy others in to all sorts of emails which they don't really need to see.
But some need to be dealt with and demand action or a response, so I just have to get on with it.
DO YOU ANSWER WORK CALLS OR EMAILS AT HOME? WHAT'S THE RIGHT WORK-LIFE BALANCE?
I'll admit that I do and probably shouldn't so much. But radio's a 24/7 business. For instance, I spent most of the snow Sunday before Christmas on email and phone.
I think you need to impose some rules so that you have work-free time for yourself and your family because the instant you read that email or text, you're into work mode. It's not healthy and it's not fair on the people who matter most in your life. But I could do better and I suspect many of us could.
HOW DO YOU HOPE YOUR COLLEAGUES WOULD DESCRIBE YOU?
I'd hope they saw me as trustworthy and always approachable.
HIGHLIGHTS OR LOWLIGHTS OF YOUR CAREER SO FAR?
I really wanted to be a sports commentator when I started, so covering Cup Finals at Wembley and European games were real highlights, as well as the chance to meet so many interesting and, in some cases, famous people. For instance, what a privilege to have met and interviewed at length the likes of Wolves' legends Stan Cullis and Billy Wright, or Albion's Cyrille Regis. And many more.
I don't tend to think too much about when things have gone wrong because in live broadcasting, as in life, they will from time to time. I just think I've been very lucky to have the chance to do a job that really started as a hobby, and even after 30 years hasn't ever quite lost that feeling.
PET HATES?
I don't really hate things much, but one thing I find very hard to accept is when people are treated with a lack of respect. Everyone deserves to be treated with the same level of dignity and kindness.
IF YOU COULD GO BACK AND GIVE YOUR YOUNGER SELF SOME WISE ADVICE, WHAT WOULD IT BE?
Live in the moment and worry less. The best and only time is now.
HOW DO YOU RELAX AWAY FROM WORK?
I love seeing new places, reading, spending time with my family, watching sport and walking the dog! But I find it very hard to simply sit on a sun lounger – I get bored and want to do or see something.
WHAT DO YOU BELIEVE IS SPECIAL ABOUT THE SHROPSHIRE BUSINESS COMMUNITY?
I've always had a sense that people want to work together and support each other in Shropshire. There's a feeling that we all come from the same communities, face many of the same challenges and if one business prospers it's more likely to help another one than to be at its expense.
TELL US SOMETHING ABOUT YOU THAT MOST PEOPLE PROBABLY WOULDN'T KNOW.
I can lay claim to being the world's worst goalkeeper. I was in goal at University when we lost consecutive matches 16-0. I'll simply say I'm very short-sighted and wasn't wearing glasses at the time…
YOU CAN TAKE ONE BOOK, ONE FILM AND ONE CD ONTO A DESERT ISLAND – WHAT WOULD THEY BE?
"The Lord of the Rings" – not only because it's a rich story that bears re-reading, but it's the kind of fantasy you'd need to escape the reality of being on a desert island. And it's very long so would take ages for me to read it.
I love film noir – there's a real atmosphere in the 1940s monochrome pics. Maybe "Double Indemnity" – Edward G Robinson was an amazing actor.
"Out of the Blue" – ELO. Nostalgia from the time when I was a teenager and most into buying records.
YOUR FIVE DREAM DINNER PARTY GUESTS, DEAD OR ALIVE?
Jesus, Charles Dickens, Elizabeth I, Marie Curie and Peter Kay.
WHAT WOULD YOU COOK FOR THEM…?
No real idea - maybe a fish pie feels a reasonably safe option.