Print firm expands thanks to grant
CMYUK - the supplier of equipment to the large format digital printing market - has been able to expand its showroom and create new jobs in Shrewsbury, having been awarded a grant by the Marches Local Enterprise Partnership (LEP).
The grant, worth over £69,000 is part of the Marches Building Investment Grant (MBIG) which was launched earlier this year. It is part funded by the European Regional Development Fund and has allowed significant refitting work to take place at the firm's Demonstration Centre on the Battlefield Enterprise Park in Shrewsbury.
Founded 13 years ago, CMYUK has grown steadily since its launch to become one of the first equipment and material suppliers to the large format digital printing market. By focusing on the promotion and sale of brand-leading technology, the business has been able to react quickly to changing market needs and, in 2014, due to an increase in business, it launched its Shrewsbury-based Demonstration Centre.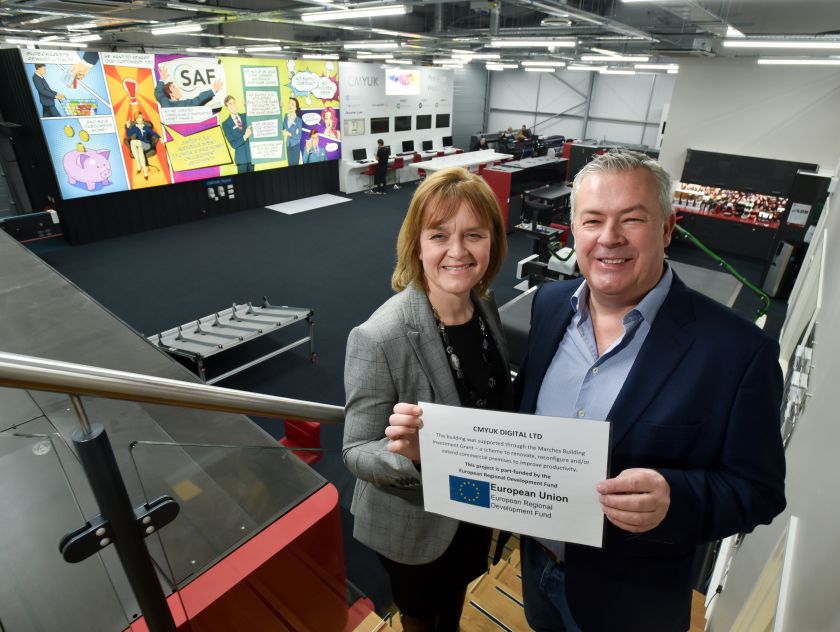 This has proved to be an incredibly important facility, where customers can experience the complete print production workflow in one environment and the firm's expansion in emerging technology and training facilities has necessitated the recent extension of its facilities.
Director Robin East said: "Our unique facility located in Shrewsbury has proved so popular since we launched it three years ago, that we could quickly see the benefits to be gained by extending it further.
"Our vision was to expand the demonstration space to include the latest digital prepress workflow efficiency technology that is essential for our UK customer's future investment, and allow them to experience the full workflow from digital origination to finished product. This will now be possible thanks to the MBIG grant that we've received.
"We found out about the grant from a local contact and then sought further information from the Marches LEP website. I'm so glad we did, as it's meant that we could not only expand sooner than we would have otherwise done, but it's also meant we could expand the size and scope of the project and our demonstration space is now twice the size it was."
The Marches Building Investment Grant totals £2.5m and is open to businesses across Herefordshire, Shropshire and Telford & Wrekin that need to fund extensions, renovations or reconfigurations of commercial premises.
Caroline Cattle, MBIG Programme Manager, said: "CMYUK identified a real gap in the market within which they operate. By developing their unique demonstration and training centre, they've not only provided customers with a unique environment in which to see the technology in action, but they've also successfully strengthened and extended those client relationships, creating the conditions necessary for this expansion."
CAPTION: Caroline Cattle (MBIG Programme Manager) & Robin East (Director, CMYUK)