Law firm backs Armed Forces Covenant
A Shropshire law firm has signed up to a scheme which pledges to help and support serving and retired armed forces personnel and their families.
The Armed Forces Covenant was set up to ensure all those who serve or have served their country and their families should be treated with fairness and respect within the local community, economy and society in general.
It covers such areas as education and wellbeing, access to a home, career, healthcare, financial assistance and discounted services.
Lanyon Bowdler partner Dawn Humphries and chartered legal executive Sophie Davies attended RAF Shawbury to officially sign the covenant - a move the firm sees as a major commitment to the armed forces.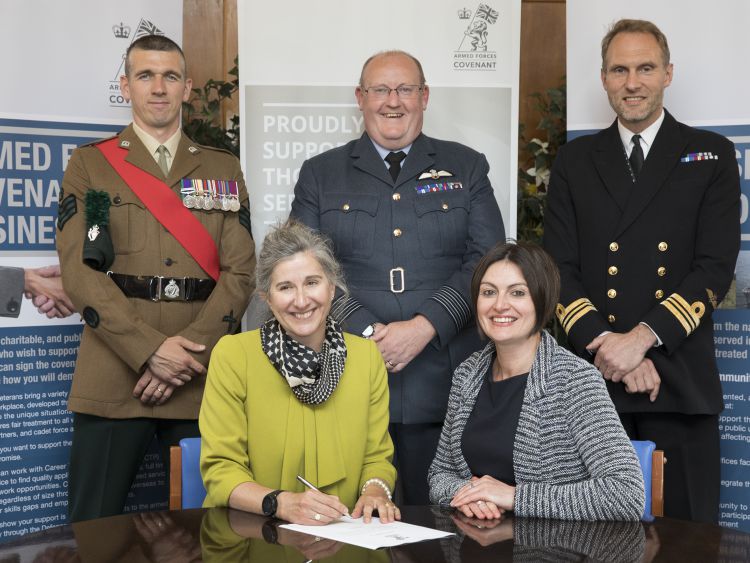 "Lanyon Bowdler is very proud and honoured to have been invited to sign the Armed Forces Covenant," said Dawn. "We fully support the idea behind it and its goals in giving practical help to those people who have served our country. Our armed forces protect us with honour and courage, often paying the ultimate sacrifice so our country can remain safe.
"It is only fitting that we repay that sort of commitment by making one of our own and offer a guarantee that we are there to help them when they need it most.
"Armed forces personnel are often confronted with problems that affect their day-to-day lives, and organisations such as Lanyon Bowdler are keen to ensure they receive the appropriate help and support they need, and by signing up to this covenant we are pledging our commitment.
"It acts like a database where those who need help can find what they need by looking up the signatories and finding the appropriate group committed to their cause. Being part of the covenant also helps us as lawyers to better understand the unique position of armed forces personnel and the problems they face."
Dawn and Sophie were guests of RAF Shawbury at the signing and were taken on a tour of the base, finding out more about what they do.
Group Captain Chuck Norris, Station Commander at RAF Shawbury, said: "It was a pleasure to welcome local businesses to RAF Shawbury and to witness them signing the Armed Forces Covenant. We are extremely proud of the strong links that the armed forces have with Shropshire and the tremendous support that we receive."
Pictured: Sgt Lee Jones (1 Royal Irish), Group Captain Norris (Station Commander RAF Shawbury) and Lt Cdr Robley RN (Defence Helicopter Flying School), with Dawn Humphries and Sophie Davies of Lanyon Bowdler.