Student wins top of the range prize
AGA Rangemaster Group presented a once-in-a-lifetime opportunity to the vocational art and design students of Shrewsbury Colleges Group.
Over 50 students took part in a design competition that AGA arranged specifically for Shrewsbury Colleges Group students. The renowned British manufacturer collaborated with the vocational Art & Design department to create new print designs for their textiles collection. Students produced original patterns that eventually got whittled down to one successful winner.
Caroline Smith, AGA Cookshop commercial manager then visited the college to view and appraise the designs and had a very difficult time selecting a shortlist. After much consideration Josh Bloomfield, Thomas Harrill, Georgia Hudson and Karolina Wysocka were shortlisted and then tasked to demonstrate how their designs would look when applied to all the different AGA textile products.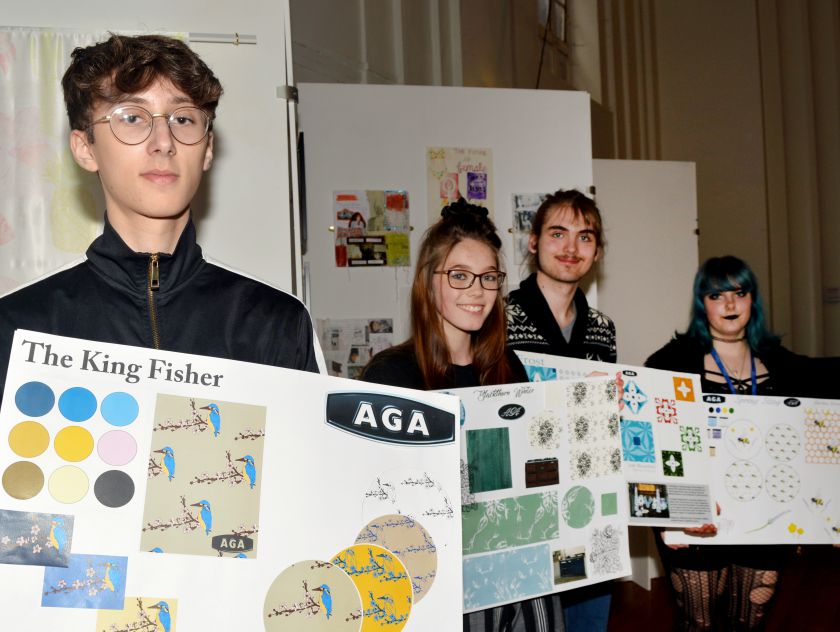 After this impromptu second round Georgia Hudson's design, 'Blackthorn Winter' was chosen to be turned into products that will be sold nationwide. The green colours and floral patterns really impressed the company and helped them come to their final conclusion.
Georgia, 17, from Shrewsbury said: "I didn't expect to win at all; I'm quite shocked. It was a difficult assignment, but I loved practising my art. I am both nervous and excited for the next steps I'll be taking with the team at AGA.
"After researching the market and understanding their target customers I chose elements that would complement the most popular colours that AGAs come in. I wanted to look at winter because I was drawn to use dark greens and winter flowers."
The top-of-the-range prize invites Georgia to meet the design team and see the processes involved in taking a design into printed fabric and fully develop the textile collection to sell. She also has the opportunity to travel to Portugal to see it being created at the printing factory based there. The designs will be sold online and in-store, with the collection including aprons, oven gloves, chefs' pads and more.
Helen Morgan, art & design teacher, said: "This was such an exciting opportunity for all our students. It was a great project for them to take on and an amazing opportunity for Georgia. This will increase her skill and confidence in so many ways. It was brilliant that AGA approached us for this challenge; it is so beneficial for the students and college to have good connections with companies that can give real-world experience. I look forward to purchasing some of Georgia's tea towels."