Launch of Italian restaurant in Albrighton
Two entrepreneurs are sharing their passion for food by launching their second Shropshire restaurant in nine months.
Michael Gale and Laura Goodman (pictured) have opened Carlini in Albrighton providing people with a new take on dishes inspired by the 20 regions of Italy.
The couple, who originally launched Carlini in Shifnal in February, have invested £200,000 into their latest venture, transforming the derelict Masala Lounge building on the High Street.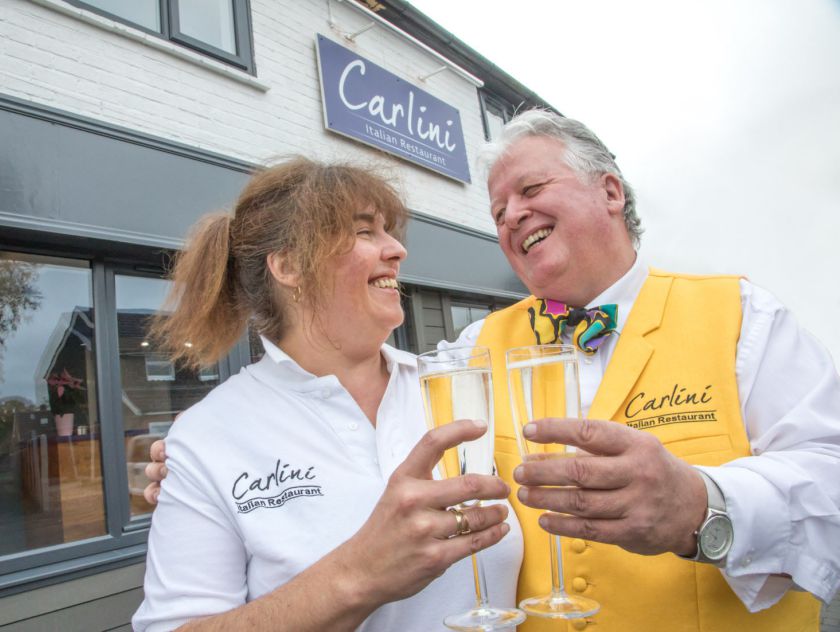 Set over two floors, the restaurant will cater for 65 people across a mix of booths and open plan seating and features the deep blue and white colour scheme synonymous with the Mediterranean.
More than 20 new jobs have been created as a result of the launch, including the appointment of Aaron Marsh as the new sous chef.
"We are delighted to be back in Albrighton with Carlini and catching up with lots of old friends and customers," explained Michael Gale.
"The opening weekend was fully booked within a few minutes of us announcing the opening date on social media and we are already 'sold out' for Christmas day. It shows the local appetite for fantastic tasting food in an environment that is conducive for great conversation and people enjoying themselves.
"Our sister restaurant in Shifnal has proven an overwhelming success and has given us the platform to open our second location 12 months ahead of schedule."
Carlini is open five days a week for lunch and dinner, with a view to tapping into the local corporate market who want an alternative to Birmingham and Wolverhampton.
Laura, who was born in Rome, is looking to use her early exposure to Italian food by taking the best traditional recipes from these regions and bringing them up to date with a modern twist using seasonal local produce and imported ingredients.
"A lot of my cooking inspiration comes from the fabulous recipes I learned from my mother and 'Nonna', when I was growing up in Italy," added Laura, who has also painted some original pictures to be hung in the restaurant.
"Some of the best food from this part of the world originates from humble regional peasant cooking and I hope to tempt taste buds with some of these popular dishes, as well as some lesser known treats."