Charity given leg up by Freyssinet
Civil engineering company Freyssinet has stepped in to help a Shropshire charity to fund equine sessions for disabled adults and children.
Perry Riding Group for the Disabled has been awarded £5,000 by the VINCI UK Foundation for the recruitment of new volunteers – having been sponsored by Freyssinet, which is one of the members.
The VINCI UK Foundation supports groups and charities which work to promote social cohesion and reduce exclusion. Launched in 2016, the foundation not only donates financial support, but also the skills and experience of its own employees.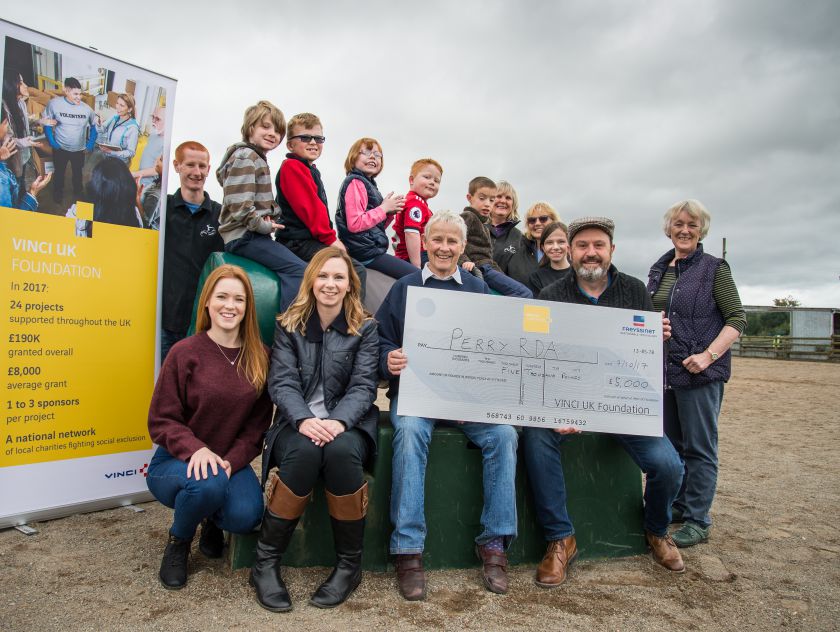 Freyssinet, based at Euston Way in Telford, will help with the delivery of Perry RDA's volunteer recruitment drive for the next 12 months. The company's marketing and communications officer, Clare White will act as the charity's project sponsor and provide marketing support.
Perry RDA provides disabled people with opportunities to improve their physical and mental wellbeing through educational and fun activities with horses. Each week, 80 adults and children, with a range of disabilities and special needs, take part in riding, vaulting or carriage driving sessions at the centre, enjoying the many physical and therapeutic benefits from the activities.
The charity, led by Jane Barker is currently raising funds for its relocation to new premises in Much Wenlock. The improved facilities will include an indoor arena and hydraulic mounting ramp.
Paul Bottomley, managing director of Freyssinet Limited, said: "We are extremely proud to be associated with this fantastic charity and hope that, through continued involvement, Freyssinet can help Perry RDA achieve their goal of opening a new purpose built facility as soon as possible.
"The tremendous commitment of the volunteers is clearly critical to the successful operation of the charity and enables it to offer such a high level of enjoyment and effective therapy to a large number of deserving people."
Jane Barker of Perry RDA added: "This is a fabulous donation which will help us to develop our volunteer recruitment and support strategies. Our sessions depend solely upon the help of volunteers and we want to retain them for a long time to come. We are grateful for this material help and also for the offer of practical help and advice over the next year."
*Perry RDA requires volunteers to help run sessions and day-to-day operations of the organisation. For more information visit www.cavaliercentre.org or call Jane Barker on 01939 261147.
Pictured with the children of Perry RDA are volunteer Dan Davison, Freyssinet trainee QS Shannon Genner, marketing & communications officer Clare White, Perry RDA group leader Jane Barker, Freyssinet managing director Paul Bottomley, office manager Linda Thomas, physiotherapist Lynne Munro and volunteer Maria Budd.