£4m glamping resort set to open
A luxury £4 million touring and glamping resort which is being built near Shrewsbury is due to open at Easter, it has been revealed.
The Love2Stay resort is being developed by Shrewsbury-based Salop Leisure, and is set to feature a state-of-the-art, chemical-free swimming pool at the heart of the development.
The resort is situated on the edge of Shrewsbury in 22 acres of landscaped grounds next to Salop Leisure's headquarters by the Emstrey roundabout.
Mark Bebb, Salop Leisure's managing director, said: "With Love2Stay we are keen to develop a resort that is at one with nature and will instil a feeling of well-being and tranquillity in our visitors.
"Our lives have become dominated by technology, with our children glued to iPads and the internet.
"We want them to get back to nature and experience the grass between their toes. With our stunning centrepiece pool, they will be able to swim safely in pure, chemical free natural water and feel like they are wild swimming in a mountain lake."
It will offer visitors a luxurious natural retreat, Mr Bebb said, with accommodation in either 20 glamping safari-style lodges or 120 touring caravan pitches, with panoramic views across to Wales from on one side and over to the Shropshire Hills from the other.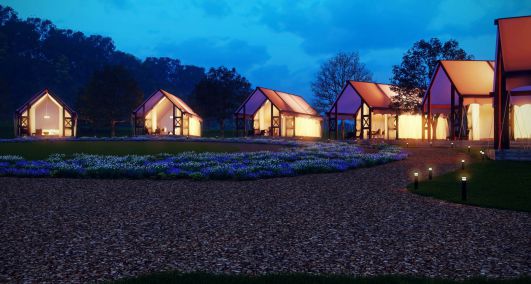 The 432 sq m natural swimming pool at the centre of the resort is being designed and built by Poolscape in collaboration with multiple RHS Gold Medal winning landscape design practice, MOSAIC.
The team are using the latest technology from Austrian natural pool specialists BIOTOP.
The natural pool design also incorporates a 230 sq m planted regeneration zone filled with water lilies and a naturalistic marginal zone, which will be planted with British native reeds and rushes to create the appearance of a natural lake at the centre of the resort.
BIOTOP were the company who invented the first commercial natural swimming pools in Austria more than 30 years ago.
They are the world's market leader, having built more than 5,000 private and public natural swimming pools around the world, including the UK's first public natural swimming pool in 2015, at the King's Cross Development in London.
BIOTOP's managing director Peter Petrich said: "We are absolutely delighted to be working with Salop Leisure on this exciting and innovative glamping concept which has the environment and nature at its core.
"Our partner Poolscape is creating a stunning natural pool design. The pool technology is tailor-made for the water volume and the number of swimmers. They will be able to enjoy all the benefits of natural outdoor swimming."
Picture: A computer generated image of the glamping village.