Two new recruits join SMI team
Thermal insulation specialist Seymour Manufacturing International (SMI) has welcomed another two new recruits to its growing team.
John Craig has taken on the warehouse supervisor's role at the company's Telford headquarters, while Kirsty Murrell has been appointed sales and project co-ordinator.
John, originally from Scotland, has worked in a variety of warehousing and supervisory roles. His previous employers include Japanese copier and printer specialist Ricoh, and supermarket chain ASDA.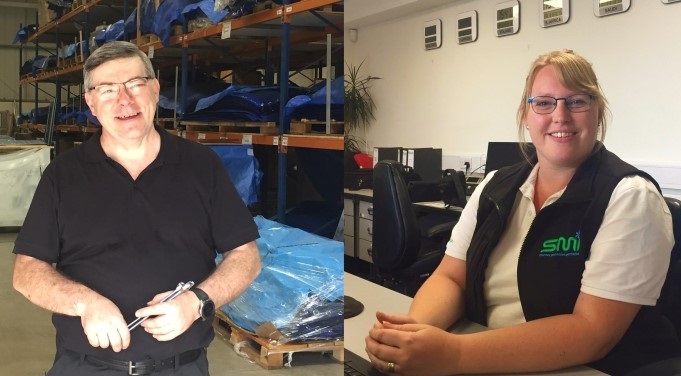 He has his son, Stuart, to thank for the role. "He used to work here at SMI until he emigrated to Australia – that's how I came to know all about the company, and discover there was a vacancy," he explained. "I'm thoroughly enjoying it."
Kirsty, who lives in Dawley, said she was enjoying the atmosphere at the company's busy Stafford Park offices. "It's a great place to be, working with some really fabulous people," she said.
Brian Seymour, SMI's founder and managing director, said: "We're delighted to add John and Kirsty to our talented and enthusiastic team. They are just the sort of people we are looking for – tackling challenges with professionalism, and a good sense of humour."
SMI is the award-winning company behind Tempro, the lightweight thermal insulation material which has been scientifically proven to cut energy loss by 25% in chillers, and 33% in freezers.
It is a world leader in thermal insulation for the protection of food, chemicals, agricultural and home delivery products, serving a diverse range of sectors from supermarkets and pharmaceuticals to blood banks, and the Ministry of Defence.
As well as a growing customer base in the UK, SMI supplies to countries all over the world, including France, Germany, Spain, Portugal, Poland, the Czech Republic, Switzerland, Belgium, the Netherlands, Ireland, Sweden, Slovakia, Russia, Saudi Arabia, and South Africa.
Pictured: John Craig and Kirsty Murrell