Sallyanne Burdon
Sallyanne Burdon is the director of Incor Media in Telford - she set up the company just over a year ago offering branding, website design, social media support, sales and marketing.
EXPLAIN A TYPICAL WEEK IN YOUR WORKING LIFE: A typical week is totally diverse – no two days are the same! Working with a wide variation of clients keeps each day interesting and diverse!
WHAT IS THE BIGGEST CHALLENGE FACING YOUR INDUSTRY RIGHT NOW? People understanding the value and importance of a good online presence – be it a website or social media – ultimately today this is your online shop window!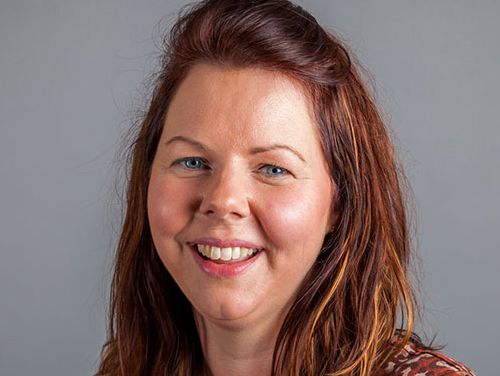 AND WHAT ARE THE BIG OPPORTUNITIES? For us, it's the sheer volume of new business start ups! It's inspiring to see just how many people are taking the plunge to demonstrate their own talents, ability and self belief – although it's really hard work, ultimately they will gain the work/life balance that so many people crave.
HOW DO YOU GET THE BEST OUT OF YOUR STAFF? Working with me who couldn't be motivated!?! I have such a passion for helping businesses to succeed that apparently my personality and attitude is infectious – hopefully in a good manner!
WHAT WAS YOUR LAST MEETING ABOUT, HOW LONG DID IT LAST, AND WAS IT PRODUCTIVE? 2 hours – resulting in a client booking a website and total rebrand.
HOW MANY EMAILS DO YOU GET IN A DAY, AND HOW MUCH TIME DO YOU HAVE TO READ THEM? Too many – and yes I read every one thoroughly *cough
DO YOU ANSWER WORK CALLS OR EMAILS AT HOME? WHAT'S THE RIGHT WORK-LIFE BALANCE? I am privileged to work from home – however that has its downside as I can't ignore an email when it drops in the inbox!
HOW DO YOU HOPE YOUR COLLEAGUES WOULD DESCRIBE YOU? Funny, kind, knowledgeable……??!!
BREXIT – WHAT'S YOUR VIEW OF WHAT IT'S ALL GOING TO MEAN? I think it's important to view it as an opportunity going forward and to focus on facing such a major change with a positive attitude.
HIGHLIGHTS OR LOWLIGHTS OF YOUR CAREER SO FAR? Highlights – becoming self employed! The flexibility is phenomenal – after all we all know the working world no longer switches off at 5pm each evening.
PET HATES? Pessimists and jobsworths
IF YOU COULD GO BACK AND GIVE YOUR YOUNGER SELF SOME WISE ADVICE, WHAT WOULD IT BE? Have the courage to follow your dreams sooner! Don't be hired to help someone build theirs!
HOW DO YOU RELAX AWAY FROM WORK? I love dining out with friends and family – probably a bit too much! (I'm sure my trousers agree today) and spending time in our caravan.
WHAT DO YOU BELIEVE IS SPECIAL ABOUT THE SHROPSHIRE BUSINESS COMMUNITY? The Shropshire business community is loyal. We look out for each other here and I love the fact that we always stick together and try to do business locally – recommendations are key in Shropshire as we all listen to each other.
TELL US SOMETHING ABOUT YOU THAT MOST PEOPLE PROBABLY WOULDN'T KNOW. I'm a huge fan of boxing and darts.
YOU CAN TAKE ONE BOOK, ONE FILM AND ONE CD ONTO A DESERT ISLAND – WHAT WOULD THEY BE? Anything with Bear Grylls in the title – I'll need to survive after all!
YOUR FIVE DREAM DINNER PARTY GUESTS, DEAD OR ALIVE? Carl Froch, Anthony Joshua, Marylin Munroe, Phil Taylor, Princess Diana.
WHAT WOULD YOU COOK FOR THEM…? I wouldn't – we'd all have a good Chinese takeaway!