Apprentices help to keep highways in shape
Telford College is helping to train a new generation of road surfacing apprentices to work on maintaining the UK's transport network.
The college is working in partnership with Eurovia UK Limited to deliver the first Road Surfacing Operative qualifications of their kind in the UK.
Beckie Bosworth, employer engagement manager at Telford College, said: "It's a privilege for Telford College to be working in partnership with Eurovia UK Ltd. During these difficult times we have still enrolled over 30 new apprentices onto programmes, including the new road surfacing apprenticeship – it's a tribute to everyone involved.
"This new road surfacing programme has been developed to tackle the skills gap in a sector with an increasingly ageing population."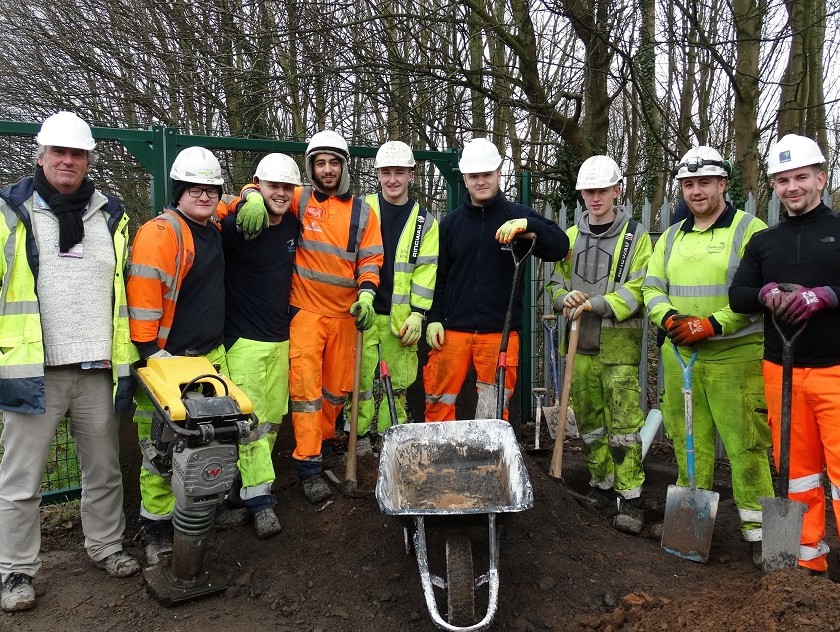 Andrew Tomlins, Eurovia Surfacing's divisional manager, said: "Working with Telford College to develop this new apprenticeship has been a wonderful opportunity. We have created a programme for young people to learn and develop in a fantastic sector.
"This pandemic has shown how vital it is to keep the country's highways safe and well-maintained. Our apprenticeship means we are growing a talented workforce and skills for now and the future benefit of our whole country."
Together with its associated companies, Eurovia UK teams are responsible for improving over 50,000 kilometres of the UK's highways network. It delivers specialist highway services across the largest, dedicated, highways portfolio within the UK, including the strategic road network, motorways, trunk roads, and the local authority network.
Telford College has been working with the Eurovia team since 2015, having previously been training apprentices under the Highways Maintenance curriculum.
Jeffrey Fletcher, Telford College's construction qualifications co-ordinator, said: "In these difficult times, it is a privilege to be able to continue to play our part in opportunities like these. It is so important to share skills and experience, so that a new generation can develop the required knowledge and passion for the sector."
Eurovia UK has increased the capacity of its apprenticeship, graduate and student placement programme, welcoming 90 new starters into the company over the past year. The programme has grown from a core of highways and civil engineering to include mechanical, systems and control engineering roles, as well as commercial, financial, and business functions.
Each student receives a personalised induction programme, including driver assessments and high-risk driver training. Graduates and apprentices are provided with permanent roles from day one, giving them invaluable security and stability as they start their careers.
Eurovia director Kristine Pollock, said: "Now more than ever, our graduate and apprenticeship programmes are an investment in their future, but also the future of our business."
And David Binding, who leads the graduate programme, said: "Investing in young people, supported by the experienced teams and individuals we already have in our business, puts us in a great position to be part of the new way of working, thinking differently and creatively to tackle the challenges ahead."
Telford College has a busy programme of activities lined up during National Apprenticeships Week, including webinars and facebook live sessions. Details can be found at www.telfordcollege.ac.uk/naw2021
Pictured: Eurovia staff during their training at Telford College