Shropshire firm is lighting the way
Experts at a Shropshire lighting company are securing contracts all over the world thanks to their creative ideas.
Phil and Michelle Gardner run The Secret Lighting Company from their premises at the foot of the Long Mynd, and they have been specialising in light for over 25 years.
Now their innovative and progressive lighting solutions are in great demand across the world, with contracts in countries all over the Middle East and across Europe for both commercial and domestic customers.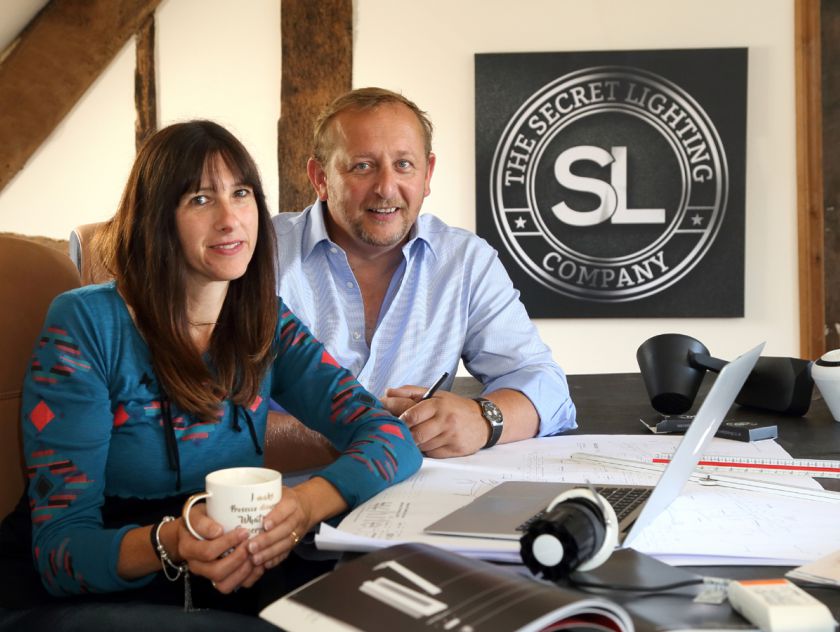 "We are receiving more and more referrals to design the lighting for palaces and villas in the Middle East, and we have helped hundreds of clients to build amazing projects all over the world – from naturist resorts in Montenegro to countryside lakeside hotels, and from beach homes in Saudi Arabia to kitchen extensions in Birmingham," said Phil. "We lived in France for several years too while I worked on lighting plans for European cities and grand monuments."
In fact, the couple's skills were so in demand in the Middle East that they considered relocating there to run their business, but they chose south Shropshire instead.
Phil and Michelle are architectural lighting designers who look at a building or plan and consider the orientation of natural light and how it penetrates the space. They then design a lighting plan that will enhance the setting, and create an atmosphere and mood that makes the space come alive.
"Our particular style is for clients to see the effects of light but not the light fixtures themselves," said Phil, who is responsible for the design and technical side of the business. "This means we embed light into walls, floors, and furniture, so that it looks so much better than the traditional array of downlights or regular lines of spotlights you would usually see."
The couple specialise in using the very latest technology to deliver lighting solutions too, but only where it's appropriate.
"Large global companies are investing heavily in automating buildings particularly for heating, lighting and blinds, but we use technology judiciously, when we can see it will be of real benefit to the client.
"We don't just add apps and functions that will never be used – just because technology and Siri can now turn lights on and off, it's not the same as starting with a good design and creating the right setting, rather than just dimming a light bulb in a room up and down."
Pictured: Michelle and Phil Gardner from The Secret Lighting Company