Long-established firm reports growth
One of Shropshire's longest established brands can consider 2018 a good year. Halls, the Shrewsbury auctioneer, property, land and livestock business has recruited new staff and increased its shareholders in what the company would describe as a 'good year across the board'.
Key amongst the new appointments is rural professional Anne-Marie Brettell. A farmer's daughter from Yockleton, Anne- Marie joined Halls in September after spending 10 years working for a firm of chartered surveyors and auctioneers in Bridgnorth. Anne Marie is now married to a local farmer with an organic arable and poultry farm near Hadnall.
She said: "I was in the Shropshire Young Farmers and graduated from Harper Adams in 2007 so I have built up a great network of farming friends and contacts in the area. I was keen to join Halls and make a move closer to home and service an area of the county I know very well and grew up in."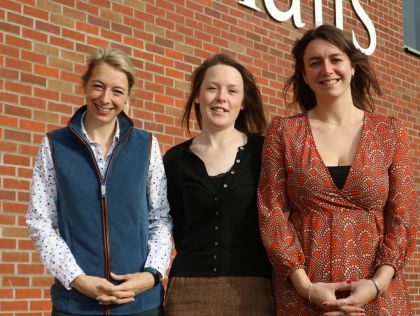 Anne-Marie joins an experienced team of rural professionals at Halls and will be based at the company's head office at Battlefield. She will predominately help farmers with BPS applications, farm sales, planning applications and valuations.
In addition to Anne-Marie, Halls have continued their strong relationship with Harper Adams and recruited Josh Balsdon to their Kidderminster Office.
Josh, a new graduate, has joined to further his studies and become a rural chartered surveyor by doing his APC (Assessment of Professional Competence). In September Halls welcomed David Haughton, a professional draftsman, to help the planning team create accurate plans in-house. David has 35 years' experience and started at the age of 16 on the drawing board before progressing to be a CAD qualified planning specialist.
Halls is a shareholder-run and managed business and as it closes books on another financial year, it has also named three new shareholders.
Property specialist and RICS accredited valuer Alex Forber from the Shrewsbury residential property branch, Maryanne Lineker-Mobberley a silver and jewellery specialist who represents the fine art arm of Halls and Louise Preece a rural chartered surveyor who has been with the business since graduating from Harper Adams in 2011 have all been offered shares in the business and will join the board of shareholders.
Commenting on the growth and development of the business, chairman and managing director of Halls, David Giles said: "We have had a good year and as a result of our growth we have invested in new recruits to help expand Halls further and service our client base.
"Halls is a long-established business that has been shepherded through over 170 years of change by its shareholders. It gives me great pleasure to know that we have younger members of the team who are ready to offer their expertise and experience to the shareholders and guide the business forward in these tricky political and economic times."
Pictured: Anne-Marie Brettell, Louise Preece and Maryanne Lineker-Mobberley at Halls