Team members practise what they preach
The new-look team at county sports partnership, Energize, are practising what they preach – using flexible working arrangements to create a happier and healthier workforce.
Christina Morgan, Carol-Ann Woolley, Suzy O'Shea and Zara Morris are the most recent arrivals to the 14-strong team, which is based at The Guildhall in Frankwell Quay, Shrewsbury.
Christina has been recruited as project officer for Elevate, a new programme encouraging people aged 65 and above to improve their strength and balance through a series of friendly exercise classes.
Carol-Ann, who has more than a decade of experience in the research sector, is working as performance and information officer, gathering insight and analysis to inform all the Energize programmes.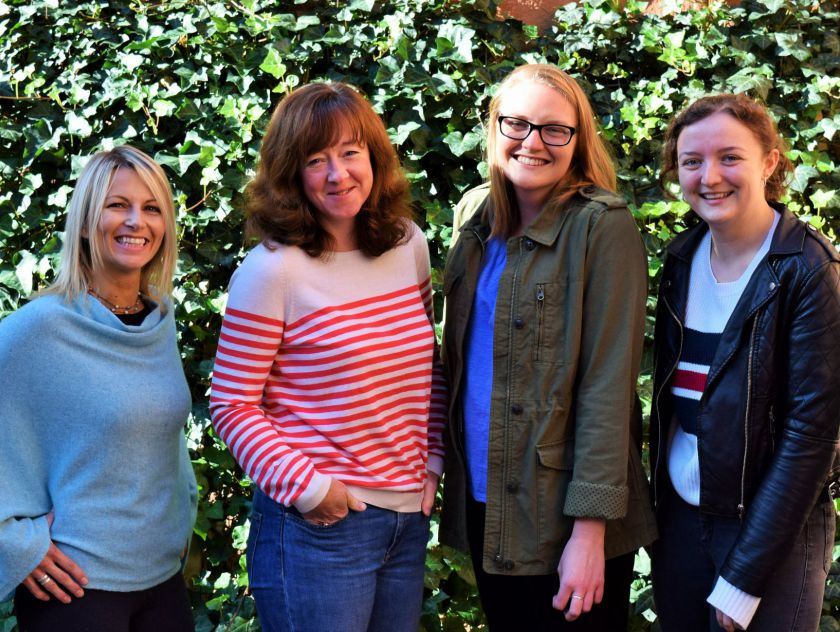 Suzy is the marketing and communications manager, handling everything from publicity to digital communications and fundraising strategies, while Zara is a graduate trainee – having previously worked with the team as both a volunteer and intern.
All four of the new arrivals are from Shrewsbury, and are keen on physical activity; Zara coaches both gymnastics and netball, Christina is a personal fitness trainer, rowing coach and supports people with mental health issues, Carol-Ann enjoys a wide range of exercise classes and swimming, and Suzy is a runner.
Carol-Ann says: "The biggest challenge in my day-to-day job is to find data which is specific to trends and habits across Shropshire and Telford & Wrekin. There is lots of national data which demonstrates the value and positive impact of the sort of programmes we offer, but we want to break this down locally, working with our partners to build a clearer picture across our area."
Christina, who has previous experience within the healthcare sector, says: "Elevate is the perfect project for me, mixing my interests in physical exercise, mental health, and the opportunity to give hands-on support."
One of Zara's main roles is to help support the development and delivery of the successful School Games programme, which runs a range of competitions and school sport festivals for primary and secondary schools.
She says: "There is a great fun team here at Energize, who work hard and play hard, and are happy for me to fit my work around current coaching responsibilities at Shrewsbury Gymnastics Academy."
Suzy's task is to use her 20-plus years of marketing expertise, gained across a wide range of industries, to communicate the many strands of Energize's new 'Actively Improving Lives' strategy.
She says: "Energize allows its team members to live a healthy lifestyle – the flexible attitude encourages us all to be active, and supports our participation in whichever activity we choose. Many organisations across Shropshire publish a list of core values – but at Energize we are actually living our values, and creating the kind of a working environment that we are encouraging other businesses to follow."
Chris Child, chief executive of Energize, said: "Our new strategy puts more emphasis on those currently classed as 'inactive', which is between a quarter and a third of the adult population, and over 80% of young people aged between five and 15.
"But we are very aware that this is not an issue we can tackle on our own, which is why we are keen to reach out to as many local groups and organisations as possible to work in partnership. And we want our energetic and enthusiastic team members to set the example, by giving them opportunity to operate with a happy, healthy and flexible work-life balance."
The new Energize strategy document highlights a series of attention-grabbing trends and statistics, including the fact that in Shropshire and Telford & Wrekin – which has a higher than average older population – 42% of people aged over 55 are deemed inactive, compared with 29% of the overall adult figure. The county also has 16 areas that fall within the 10% most deprived nationally – 15 of which are in Telford & Wrekin.
Pictured: Energize's latest arrivals, from left, Christina Morgan, Suzy O'Shea, Carol-Ann Woolley, and Zara Morris.