Nursing home receives recognition
Government inspectors have commended a Shropshire nursing home for being well-led, warm and welcoming, with kind staff who care for people in a happy and social atmosphere.
Staff at Morris Care Centre​ in Wellington were delighted to be recognised as 'Outstanding' in responsiveness to how it tailors its services to meet the needs of individuals. The Home was rated as 'Good' overall in the latest report by the Care Quality Commission.
In its summary of findings, the CQC report said: "People were cared for by staff who were kind, compassionate and demonstrated a good understanding of their needs. People were encouraged to be involved in decisions about their care and support needs. People's right to privacy and dignity was respected by staff."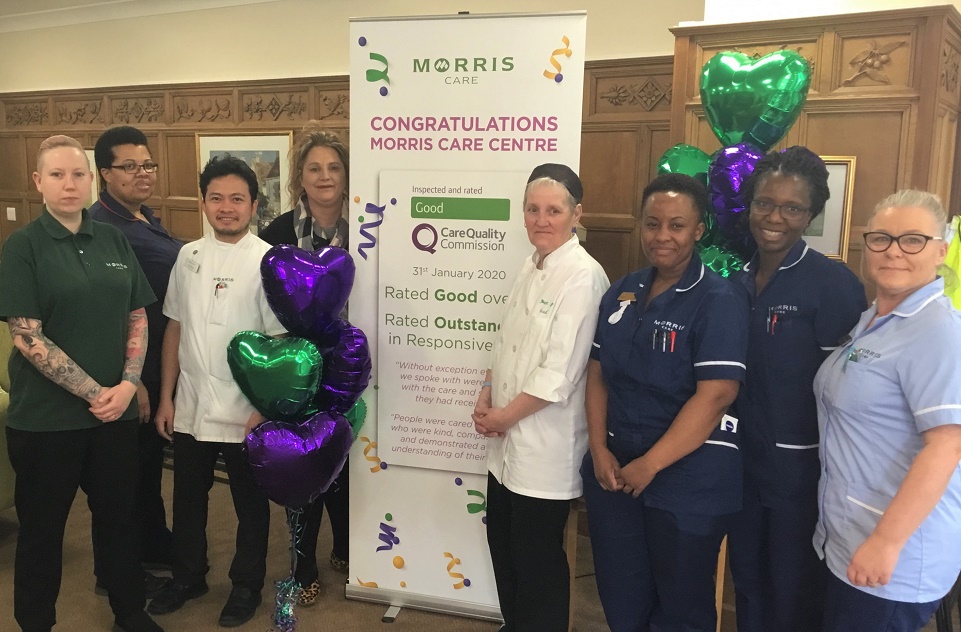 The inspectors said there was a positive culture and residents had access to a variety of social activities to ensure they always had something to look forward to.
The report praised the home's end of life care to ensure people were pain free and comfortable. "The provider went above and beyond to ensure people's end of life wishes were met and that both their families and staff were supported during and after the person's end of life," it said.
In looking at how personalised care was provided it referenced a staff member who learnt a resident's language so they could communicate with them more effectively and also how the home's manager had facilitated two marriage ceremonies at the home.
Inspectors reported that the atmosphere at the home was happy and social, with chatting and laughter. "Without exception everyone we spoke with were happy with the care and support they had received."
Sue Austin, chief operating officer of Morris Care said: "Our manager Claire Smith and the full team here at Morris Care Centre are wonderful, caring professionals who share a sincere desire to enable residents to live the best life possible.
"We're pleased their dedication and hard work has been recognised in this report as our mission is to provide a standard of excellence at all times."
Inspectors visited the home in October 2019. Morris Care Centre offers different types of specialist care. In Wellington Court it provides complex disability care for men and women of all ages. Wrekin Court provides care for the elderly, including convalescence and palliative care. Ercall Court is a specialist dementia unit.