Let's all work towards a pro-business Brexit
Shropshire businesses are calling on the Government to deliver a 'pro-business Brexit' now that Theresa May has finally triggered Article 50, beginning the UK's official exit from the European Union.
Christopher Greenough (pictured), commercial director at Salop Design & Engineering in Shrewsbury, said: "I am confident that we will end up with a brighter, better United Kingdom.
"There are opportunities to look to the future and look to trade partners outside the EU region. There are many countries that look to the UK and our product as world class, and the made in Britain brand is something that we can build upon.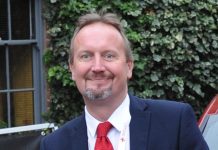 "There are uncertain times ahead, but as a manufacturer in Shropshire, I will continue to be optimistic and look to support this country. We need to unite behind the Prime Minister, and make sure the rest of the World knows that Britain is open for business.
"Let's look to our strengths, which is a strong manufacturing base, and with further investment in the steel industry, the supply chain and skills provision, we can continue to push the UK economy to bigger and better things."
Mike Cherry, West Midlands businessman and national chairman at the Federation of Small Businesses, said: "Now that Article 50 has been triggered, it is time for the Government to work towards a pro-business Brexit and give small firms some clarity on how leaving the EU will impact their businesses.
"In particular, FSB members want to see the easiest possible access to the single market. There must also be reassurance for small businesses which employ non-UK EU citizens, and rely on the ability to recruit those with the skills and talents they need.
"Access to the right skills at the right time is crucial for the success of a small business. A fifth of FSB members with staff employ non-UK EU citizens, workers that are vital to the UK economy.
"The right to remain for these non-UK EU citizens must be guaranteed at the earliest opportunity to provide reassurance to smaller firms and their workforces.
"The Government must push for a comprehensive free trade agreement with the EU based on ease and cost, and then support small firms to take advantage of new trade agreements with priority markets around the world. Small business exporters tell us that the EU single market is still their top market of choice, but firms are also keen to focus on the US, China, Australia and Canada. One third of exporting small businesses have told us they would be genuinely deterred from trading with the EU if a tariff of between two to four per cent was imposed on trade between the UK and EU.
"It's vital that throughout the Brexit negotiations the small business voice is not lost and that the final agreement is positive for British business. For this reason, FSB will continue to be a constructive partner with the Government on Brexit, especially on issues such as access to markets, to skills and labour, funding – as well as creating the right regulatory environment after Brexit.
"There is now a two year window of opportunity to influence EU law. FSB will focus efforts in the Commission and Parliament to secure pro-business reforms to the single market, as arrangements agreed between now and March 2019 will become UK law."
And CBI president Paul Drechsler said: "We welcome the Prime Minister's commitment to free trade and European values which should hearten those around the table and set a constructive tone at the start of the negotiations.
"This is a pivotal moment in our history and the time to be ambitious, level-headed and confident.
"It is in the interests of businesses across Europe to work together in absolute determination to make a success of Brexit
"Our shared aim must be to forge a mutually beneficial deal that delivers barrier-free trade and safeguards prosperity for all. The Prime Minister has recognised this."