Henshalls backs Kelda's row for charity
A Shropshire insurance broker is backing an intrepid adventurer in her bid to become the first adaptive athlete to row single-handed across the Atlantic.
Kelda Wood, who lives near Shrewsbury, will take to the ocean in Storm Petrel to attempt her epic 'Row to Raise' challenge, which is aiming to generate over £50,000 for the charity Climbing Out.
And now, Henshalls Insurance Brokers in Newport and Shrewsbury, has backed her bid by becoming a sponsor for the mission which will take place at the end of the year.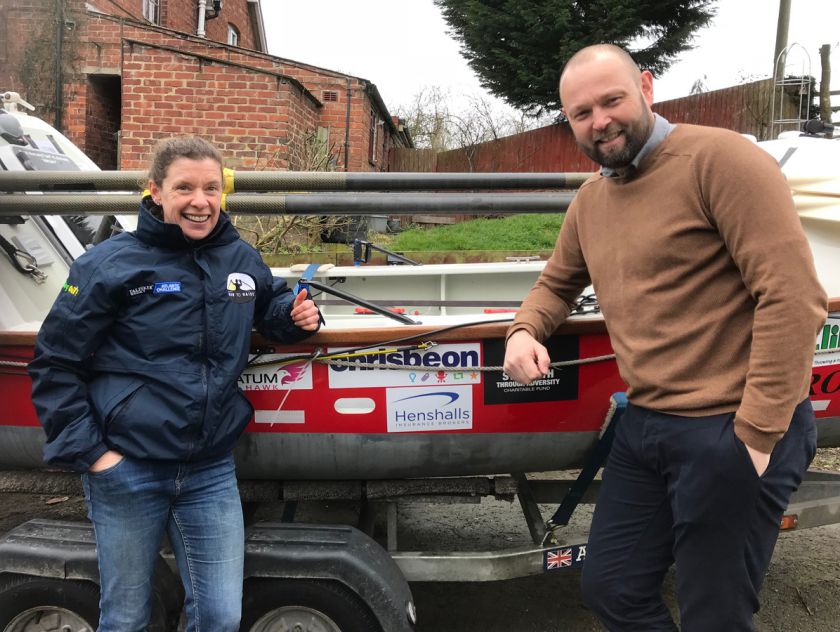 Dave Williams, for Henshalls, said: "We are delighted to be part of Kelda's challenge – she's an inspiration to so many people, and her bid to complete this transatlantic journey is nothing short of incredible.
"As a local company, we are always keen to support individuals and organisations from the Shropshire area, and Kelda's aims and objectives really struck a chord with us, so it's great to be involved."
Kelda runs the Climbing Out charity which offers five-day outdoor activity programmes aimed at rebuilding confidence and self esteem in young people facing life-changing injury, illness or trauma, and she hopes the 'Row to Raise' challenge will enable the charity to reach even more young people in the future.
The charity was set up after Kelda suffered a life-changing leg injury in 2002 when a haylage bale weighing nearly a tonne fell on top of her.
"I've been on a huge journey since my own life-changing injury – a journey that's included becoming a member of the GB Paracanoe squad, setting up Climbing Out, and summiting Aconcagua, the highest peak in South America," she said.
"I now want to support others to find the same confidence and self-belief that I've found through my journey, and that's why I'm going to row the Atlantic!"
For each day she is on the ocean, Kelda will be rowing for a different young person, sharing their stories and links to relevant charities and organisations that provide support. Charities such as The Teenage Cancer Trust, Kidney Care UK, Limbpower and Help for Heroes will be nominating people for Kelda to row for, and helping to create a network of support.
Kelda is still looking for more sponsors, and mentors, to join her team – find out more at www.rowtoraise.com
Picture: Dave Williams from Henshalls Insurance Brokers with adventurer Kelda Wood