Lucy takes top award
A Shropshire insurance broker has claimed the top spot at a prestigious regional awards ceremony.
Lucy Sutton, who works for Henshalls Insurance Brokers in Newport and Shrewsbury, has been named as Young Achiever of the Year by The Insurance Institute of Shropshire and Mid-Wales.
She received her trophy at a ceremony held at Albrighton Hall Hotel, in Shrewsbury, and was accompanied by Henshalls Directors Mark Freeman and Martin Pitchford.
"I am absolutely overwhelmed to have won the top award and I really am still struggling to believe it," said Lucy.
"To have beaten so many talented nominees and to take home the trophy is a huge honour, and I'm so proud to have received such high-profile recognition."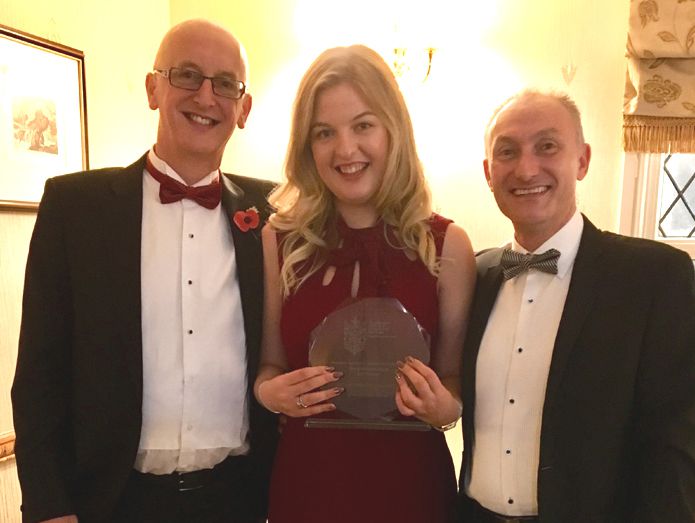 Lucy has worked for Henshalls for almost five years, beginning her career as an apprentice with the company in the personal lines department before transferring across to the business team.
And her award is not the first taste of success she's had, as she also won a place on a coveted industry scholarship scheme.
Lucy was part of the latest intake on the award-winning Allianz Scholarship Programme which is designed to provide outstanding learning and networking opportunities, and actively supports brokers to help them achieve their Chartered Institute of Insurance Diploma in 18 months.
"It's been a really busy year, but I've thoroughly enjoyed the challenges that the scholarship has presented, and it's a great stepping stone towards my chosen career in the insurance industry."
Henshalls director Mark Freeman said: "Lucy's award is the culmination of all the hard work she's put in since she joined us as an apprentice, and we couldn't be prouder of her. It's fantastic to see her recognised amongst her peers, and we're sure her success will continue as she works her way to the top of the career ladder."
Picture: Henshalls directors Mark Freeman (left) and Martin Pitchford with Lucy Sutton and her Young Achiever of the Year award