Chris Skitt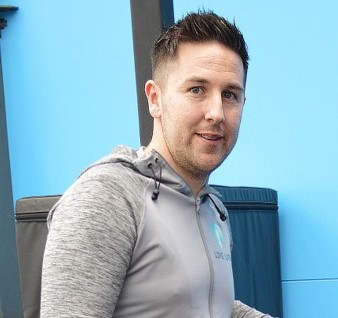 CHRIS SKITT is a physiotherapist who is leading the health, wellness and leisure services at Love2Stay, in Shrewsbury. He is well known as the former team physio for Shrewsbury Town FC.
IN A NUTSHELL, WHAT DOES YOUR COMPANY DO?
At Love2Stay we have many strands of the business, the primary area of my time is spent providing health activities and wellbeing services to those who are staying on the caravan park as well as those in the local community. These range from gym membership to on-park kayaking and from physiotherapy sessions to assault course parties.
HOW LONG HAVE YOU BEEN IN YOUR CURRENT JOB?
I had worked in elite sport for 12 years prior to summer 2018, and moved to join Love2Stay in November. When the opportunity to join the team came around, it was too exciting for me to turn down.
EXPLAIN A TYPICAL WEEK IN YOUR WORKING LIFE:
The beauty of my role is that it is extremely varied, because of the range of services that we provide I have to ensure all aspects of our offerings are performing optimally. My time ranges from being in the office analysing current trends of health and fitness, to actively seeing patients as well as co-ordinating meetings with our instructors to ensure our products and services are being quality checked and improved.
WHAT IS THE BIGGEST CHALLENGE FACING YOUR INDUSTRY RIGHT NOW?
As with any industry the lack of political stability is a concern; this will have a significant effect in the leisure industry. Furthermore, with financial uncertainty looming, people are less inclined to spend on fitness services. I would however say that spending on leisure services is an investment - it will empower and invigorate you and help to protect you against future debilitating illnesses.
AND WHAT ARE THE BIG OPPORTUNITIES?
Developing our services and streamlining our approach by listening to what our clients want. By increasing awareness of what we offer, I am really excited of what the future brings.
HOW DO YOU GET THE BEST OUT OF YOUR STAFF?
I believe that there is not such a thing as 'my staff', rather I believe that I am involved in a team of individuals all working towards a common goal. I like to empower people and allow them to be creative. I feel that by doing this it inspires those around me, whilst using their energy to inspire me.
WHAT WAS YOUR LAST MEETING ABOUT, HOW LONG DID IT LAST, AND WAS IT PRODUCTIVE?
My last meeting was with some of the key instructors of the Love2Live facility, our boutique service gym in a bespoke setting. Our meeting was set around adding value to our clients' membership. I feel extremely passionately that our members are our lifeblood, and we should therefore treat them like celebrities. As such, we are constantly looking at ways to improve the offering we can provide them and the new services we can offer.
HOW MANY EMAILS DO YOU GET IN A DAY, AND HOW MUCH TIME DO YOU HAVE TO READ THEM?
I may sound quite strange saying this, I LOVE getting emails, especially off clients. I think the information you get provided with via emails is invaluable. My inbox is extremely busy and I can receive up to 50 emails a day, so it takes some time to reply to each one, but I make sure that I do.
DO YOU ANSWER WORK CALLS OR EMAILS AT HOME? WHAT'S THE RIGHT WORK-LIFE BALANCE?
I am currently sat answering these questions at 10.13pm, so I guess that answers your question. There is a balance to be had; I have a young family and love spending time with them. I am however also well aware that a quality service for our members is not going to come by me resting on my laurels. Therefore, once I have spent some time with my family and they have gone to bed, I will open my computer and continue to work.
HOW DO YOU HOPE YOUR COLLEAGUES WOULD DESCRIBE YOU?
Fun, enthusiastic, ambitious and a leader would be the buzz words that I would like to hear. I have often been told that I am too energetic and overly positive, neither of which I see as bad things.
BREXIT – WHAT'S YOUR VIEW OF WHAT IT'S ALL GOING TO MEAN?
The wave of uncertainty that it is creating isn't helpful. I believe that work needs to be focused on the facts of each deal, and work from there. At the minute there seems to be a great deal of conjecture between parties which isn't helpful.
HIGHLIGHTS OR LOWLIGHTS OF YOUR CAREER SO FAR?
From a previous career perspective, I have been fortunate to be involved in some huge games of football, most notably working at the national football stadium twice for matches. In this realm, I believe many career highlights are in front of me. One which I have been most proud of so far is seeing the gym facility double in size and to see the quality of the product.
PET HATES?
Laziness, negativity and blame culture!
IF YOU COULD GO BACK AND GIVE YOUR YOUNGER SELF SOME WISE ADVICE, WHAT WOULD IT BE?
I had a habit of being over enthusiastic without actually completing projects. I would most certainly tell myself to slow down, be more strategic and make sure that I complete projects before moving on.
HOW DO YOU RELAX AWAY FROM WORK?
Family time is huge for me, I love spending time with my family and being able to unwind with them. My little girl who is 4 is a keen Irish dancer (yes the Riverdance stuff) and she competes nationally, so I enjoy watching her. I also like to take my little boy to the football to watch too as I still have many friends at the club. Finally, although I hate to say it, I actually really enjoy work, so a lot of my time is spent reflecting on performance and our services.
WHAT DO YOU BELIEVE IS SPECIAL ABOUT THE SHROPSHIRE BUSINESS COMMUNITY?
The Shropshire business community is really something that I believe is underscored. There are some exceptionally well-run businesses out there and some extremely nice people. It is the togetherness that I really enjoy and being so warmly welcomed at any event I attend. I would love to repay this offer by making every business member aware of the gym services and more we provide and offering them a chance to become involved.
TELL US SOMETHING ABOUT YOU THAT MOST PEOPLE PROBABLY WOULDN'T KNOW.
I have a family security company which staffs events like the flower show and the county show.
YOU CAN TAKE ONE BOOK, ONE FILM AND ONE CD ONTO A DESERT ISLAND – WHAT WOULD THEY BE?
I would go for a wilderness skills book of some description - I think I would at least be able to learn to tie knots that may benefit me somehow. I'm not really a film guy but I would like a good comedy to keep me occupied, and finally an audio book rather than CD and it would be something called 'Black Box Yhinking'. I love this book and listen to it often. I find it tends to keep me on track and my mind open.
YOUR FIVE DREAM DINNER PARTY GUESTS, DEAD OR ALIVE?
This is going to sound like a right odd mix: Gandhi, Nelson Mandela, Steve Jobs, Bobby Moore, Robin Williams
WHAT WOULD YOU COOK FOR THEM…?
Got to be steak and chips, although I'm not too sure some of the invitees would approve...