Thomas makes the grade at Furrows
Shropshire motor dealers Furrows have been so impressed with a local student that they've given him a job.
The team at Furrows of Oswestry have been working with The Marches School to give students the opportunity to take part in extended work placements at their dealership.
And the first candidate, Thomas Simmonds, who was aged 14 when he signed up for the scheme, has now been appointed as a Modern Apprentice on the Ford Apprenticeship programme.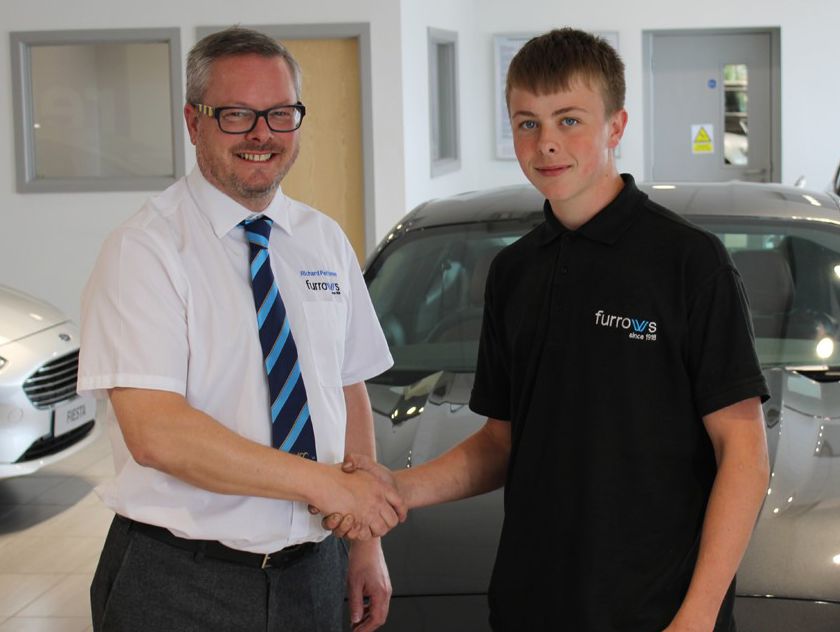 Furrows of Oswestry general manager, Richard Pettener, said: "Our aim was to support students who were considering a career in the motor industry by giving them the chance to spend a day a week with us over a period of two years, working alongside our team.
"This way they get the chance to learn about the practicalities of the industry and to take part in hands-on experience to help them prepare for their future career. And we're delighted to say that Thomas has worked so hard, that we have offered him a full apprenticeship with us.
"His success is a direct result of the effort and commitment he has shown during his placement, listening to his mentors and also coming in to work unpaid during his school holidays including the week between Christmas and New Year.
"He is a credit to his family, the school, to Furrows and, more importantly, to himself, and we're looking forward to welcoming more students from The Marches School over the coming months to hopefully follow in Thomas' footsteps."
As part of his apprenticeship and alongside his day-to-day employment, Thomas will train at the all-new Henry Ford Academy in Daventry, and Furrows and Skillnet have bought him his first set of tools to get his career under way.
Meg Murphy is the careers guidance and inspiration officer at The Marches School, and she said: "Thomas has thoroughly enjoyed the experience at Furrows, and his commitment, enthusiasm, excellent work ethic and sense of team spirit has led to the offer of a coveted Ford apprenticeship, where he will receive high quality vehicle technician training.
"Furrows are committed to supporting local talent and we are very pleased to be working closely with them to offer opportunities for school leavers."
Pictured: Furrows of Oswestry General Manager Richard Pettener and apprentice Thomas Simmonds