Transformation generates multi-million pound sales
A Shropshire house builder is celebrating after completing construction work at one of the biggest projects in its 35-year history, which will generate sales of £22million.
Shropshire Homes, based near Shrewsbury, has finished work at the iconic St George's Mansions development in Stafford. The company has transformed a derelict and dilapidated 19th Century former hospital and created 102 contemporary luxury apartments, the vast majority of which have been sold and are occupied.
A small number of one and two-bedroom homes are still available in the building's West Wing, ranging from £134,950 to £229,950. Help to Buy, the government scheme which provides up to 20% of the purchase price as a loan, is available on all of these remaining homes.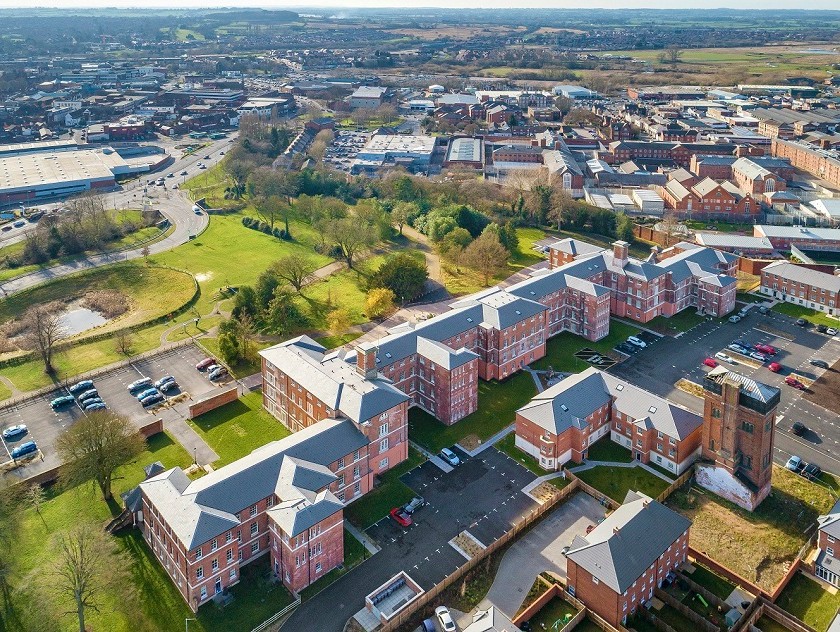 In addition to the conversion of the hospital building, Shropshire Homes has constructed two new blocks of apartments: Tower Place and Potter's Court in the grounds of the development, which have been designed to complement the splendour of the original buildings. Each block has 18 apartments and there are a few one and two-bedroom properties available for between £124,950 and £135,000, including for shared ownership.
Originally built in 1818, St George's Mansions epitomises Victorian architecture with its high ceilings and sash windows.
The hospital closed in 1995 and the buildings and surrounding parkland passed through the hands of various owners. The building suffered from decades of neglect, experiencing two fires in recent years, which removed most of the roof and destroyed the chapel and other outbuildings. Rooms and corridors were unrecognisable, floors were knee-deep in rubble and clutter and the building was declared structurally unsound.
Managing Director, Howard Thorne, said: "It has been an absolute privilege to transform what was a derelict shell of a structure into an imposing, splendid building that will stand the test of time. Shropshire Homes has a well-earned reputation for resurrecting historic buildings and our philosophy has always been about seeing the potential in any development.
"When we first took over the site in 2015, it was unsafe to enter because it had been severely fire damaged and was in real danger of collapsing. We then had to obtain detailed planning consents and liaise with specialist engineers before the skilled work of stabilising and reconstructing the original masonry could begin.
"Where possible, we restored or re-integrated original features into the new design. The southern façade, many room proportions and sash windows remain, as do the spire and corbel stones from the chapel, which now form a centrepiece to the rear landscaping."