£6.3m funding boost to create 950 new jobs
A new science park dedicated to innovation and enterprise in Newport which is expected to create 950 high value jobs will receive at least £6.36m under the new LEP Growth Deal.
And a further £1.9m will go towards funding the ongoing redevelopment of the Flaxmill, in Shrewsbury.
More than £2.75m will support a Marches wide project, Investing in Our Future Workforce, which will fund capital investment in training facilities, technical equipment and enterprise incubators in a number of local colleges including North Shropshire, Shrewsbury, Derwen, Telford College of Arts and Technology, and Hereford and Ludlow.
The Marches LEP, which includes the local authorities of Herefordshire, Shropshire and Telford & Wrekin, secured £21.9m in the third round of the Government's Growth Deals.
Graham Wynn OBE, Chairman of the Marches Local Enterprise Partnership, said: "We want to create high quality jobs and the economic conditions for businesses to flourish - this funding will help us do exactly that. Investment in developing a highly skilled workforce will help our businesses to grow, inspire them to innovate and in turn, create even more jobs.

"Working with our local authority partners in Herefordshire, Shropshire, and Telford and Wrekin, we have a strong track record in delivering schemes which really make a difference to the lives of people who live and work here. We're looking forward to meeting in the coming weeks to decide on funding and progress with these new projects."
The Partnership held a Board Meeting on Tuesday and voted through initial project allocations for five projects, which also include two in Herefordshire. The allocations are the minimum levels of expected investment via the Growth Deal and further funding may still be secured towards the projects in coming months.
The Newport Innovation & Enterprise Package involves development of a new Enterprise & Science Park off the A518 - opposite the entrance to the Aldi superstore (pictured below) - with high tech business start-up and incubation space, training and higher level skills development, and collaboration between local businesses and higher education. The package will also kickstart delivery of more than 1,000 essential new houses including starter homes in the Newport area - a key element of the Marches contribution to meeting government housing priorities.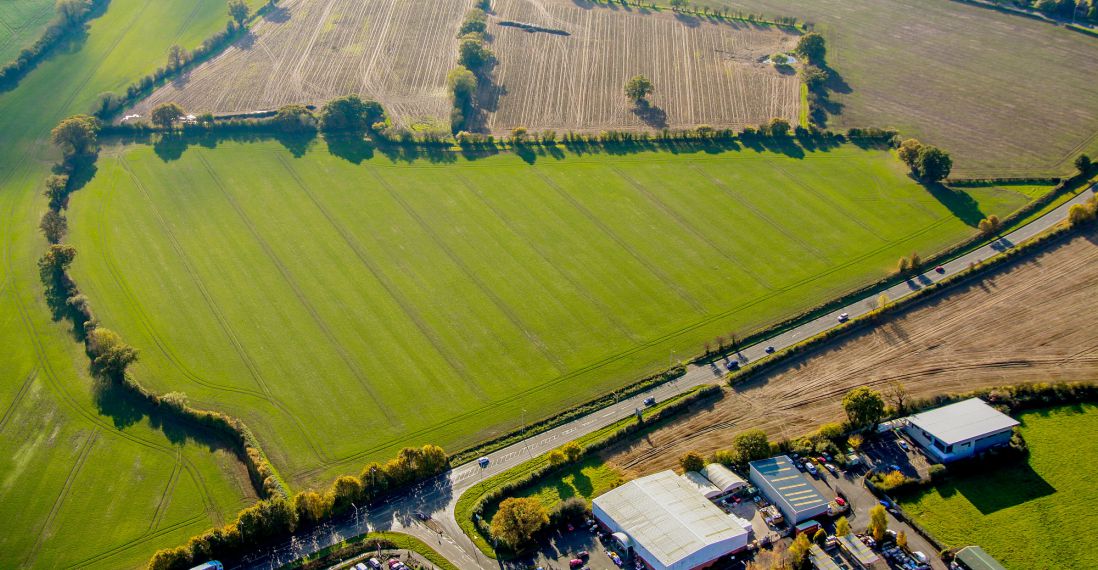 Councillor Shaun Davies, Leader of Telford & Wrekin Council which put forward the Newport bid, said: "This is more great news for the borough and the region and will create a crucial employment site in the Newport area which will give a real boost to business and employment in the town and for the agri-tech sector the site will serve.
"This is another significant investment by the council into Newport. Last year we took on the Audley Avenue Enterprise Park ensuring its remains for business use, keeping hundreds of jobs in Newport. We now want to begin work on this new site in 2018/19 and bring employment land forward as quickly as possible.
The Shrewsbury Flax Mill Maltings project will support the redevelopment of the historic Main Mill providing training facilities for young people and incubators which will be supported by the University Centre Shrewsbury. The funding will remediate 2 hectares of brownfield land surrounding the historic Flax Mill complex and provide essential infrastructure to unlock the provision of up to 120 new homes by private developers.
Councillor Malcolm Pate, Leader of Shropshire Council said: "Shropshire Council is committed to work in partnership with Historic England and the Friends of Flaxmill Maltings to bring this internationally important industrial heritage site back to life. We're delighted that Marches LEP has recognised the importance of the site and awarded this funding towards the site's redevelopment."
Historic England's Director of Planning Chris Smith said: "We are delighted that the Marches LEP have provided us with this opportunity to bring forward housing and growth on our site in Shrewsbury.
"At the heart of the complex stands the Shrewsbury Flaxmill Maltings, the world's first cast iron framed building, where we will be on site from May 2017 repairing the building and preparing it for it's third century of use."